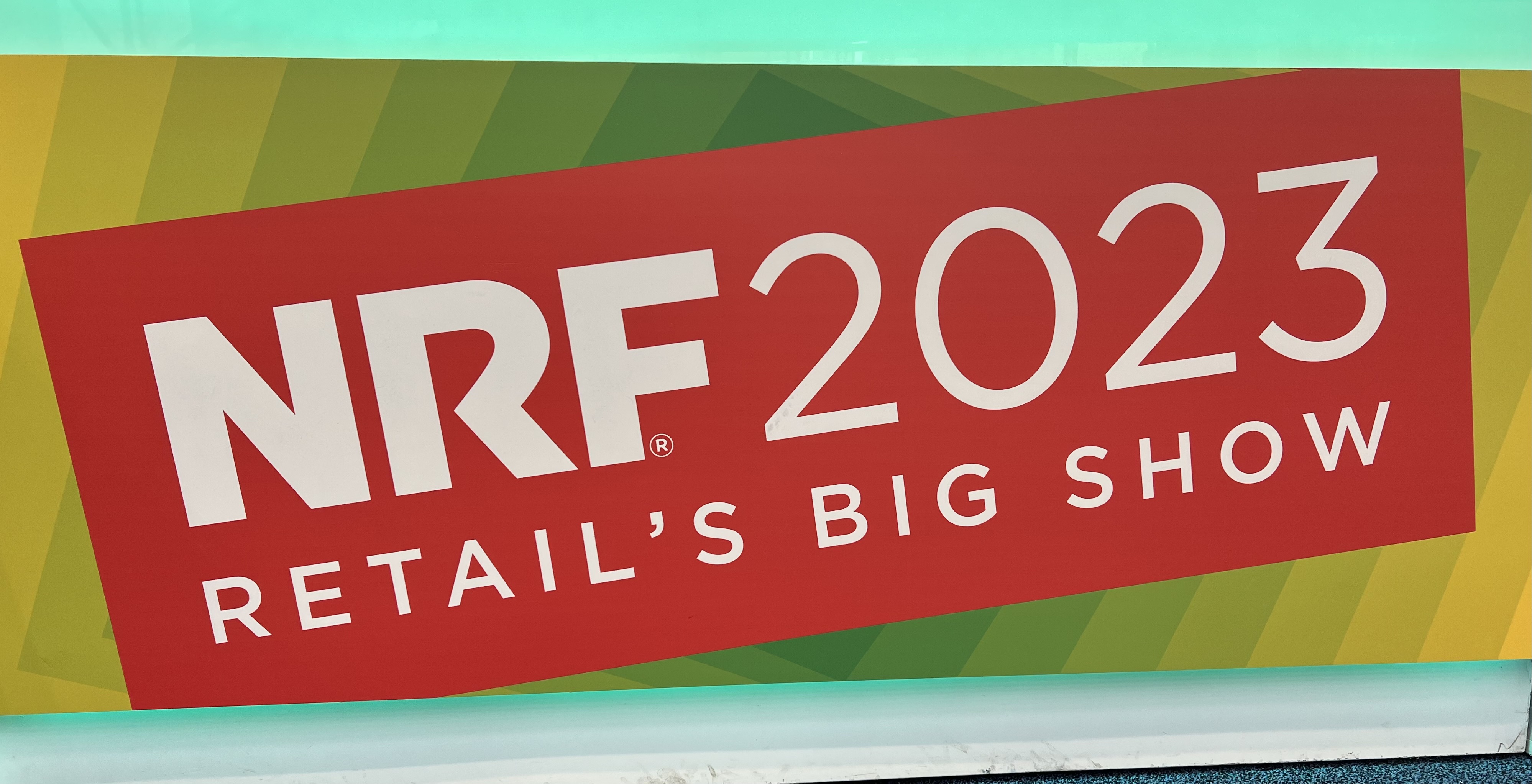 The National Retail Federation Big Show this past week in New York did not disappoint. As I summarized in my post NRF 2023 social media post:
"THAT'S A WRAP: An inspiring Retail ROI Super Saturday, an astounding number of NRF 2023 retailer meetings, a roaring 20s Rethink Retail Top 100 influencers bash, hosting the NRF Loss Prevention Council, kicking off LPRC 2023 at Bloomingdale's, named a top 10 NRF original Twitter, on Linked-in 45,000+ impressions / 100%+ engagement, nearly 90,000 steps, launching multiple Prosegur next-gen RFID tech, trend spotting for next article, and most essential FRIENDSHIPS rekindled -- it has been an exceptional Retail Innovation Leadership few days. Thank you ALL. "
Appreciative that just prior to the opening of NRF 2023, I was named once again a Top 100 Retail Influencer for 2023 by Rethink Retail. Congratulations to everyone on this important list. Retail needs a broader set of voices more than ever as we transition to a continued disruptive future for the industry.
What were the big hits and misses of the immersive NRF 2023 week? How could the misses improve both the trade event and also create new revenue streams for retailers?
Hit 1: Start with Making a Human Difference to the World
Each Saturday just prior to the January NRF Big Show, retailers, industry analysts and solutions providers gather in New York City for a unique conference. This fast-paced full day is a special blend of emotionally filled stories of the RetailROI (Retail Orphan Initiative) global charity work and the latest insights on the state of the retail industry.
This year, at the Microsoft offices near Times Square, over 220 executives came together to raise $380,000+ to help orphans and vulnerable children around the world. Since 2010, RetailROI has funded 281 projects in 28 countries from grants totaling $4.24 million, helping an estimated 311,000 vulnerable children worldwide.
From a retail innovation point of view, great panels on customer experience, the future of retail, and a summary from the latest IHL Store Experience Technology study. A sample chart from that presentation below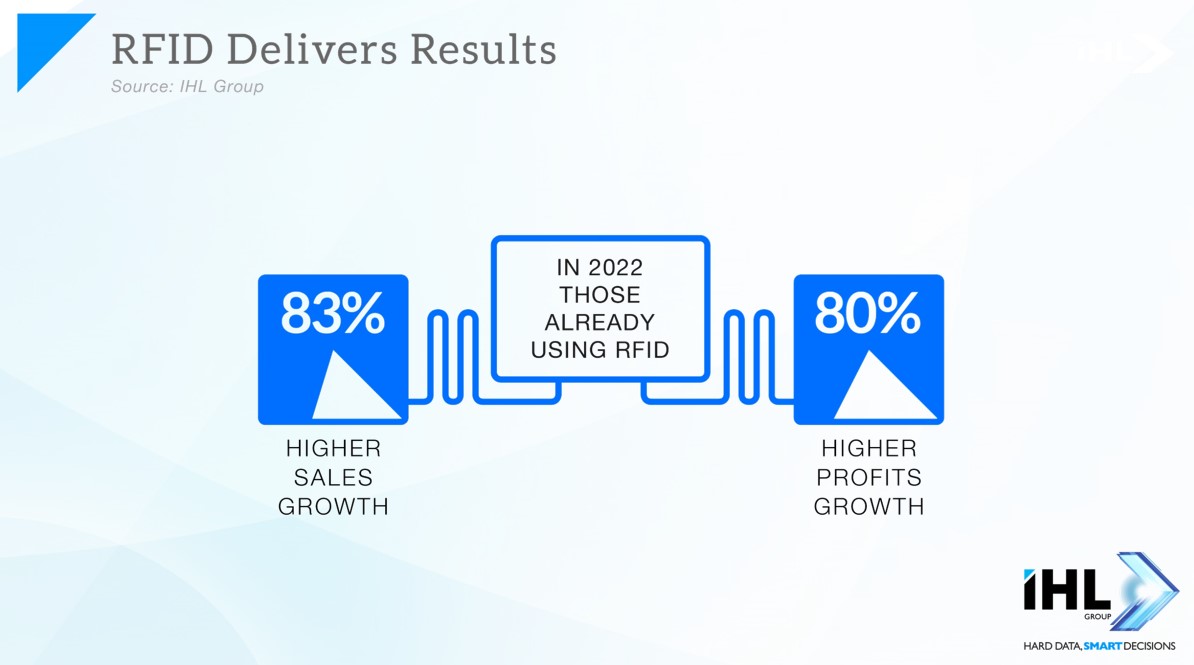 Inventory visibility is the most critical component for success in harmonizing retail sales channels for increased growth and profitability. RFID, robotics, and computer vision can help.
I urge retailers and solution providers to support Retail ROI and plan to join us at Super Saturday 2024. This event is the perfect place to prep for the Big Show and more importantly make a human difference for the world.
Hit 2: The NRF Big Show as the Showcase of Retail Innovation
Trend spotting is one my favorite activities at every Big Show. Just to clear, ChatGPT did not write this article, but if they analyzed NRF 2023, they would highlight Artificial Intelligence or AI as being highly prevalent in both presentations and exhibits. As NRF predicted, in "2023, AI shifts from singles and doubles to home runs."
Silicon Valley had greater competition at this year's edition of the Big Show. Both France and Israel had larger contingents attending. In the Innovation Lab, other countries were also represented.
Both the Innovation Lab and the startup zones were great locations for technology inspiration, although they were too far apart.
The buzzwords that abounded at NRF 2023 include of course AI, plus lots of variations of everything being smarter, more intelligent, connected, and moving to real time.
Amazon Web Services improved its presence in the 2023 edition demonstrating their Just Walk Out technologies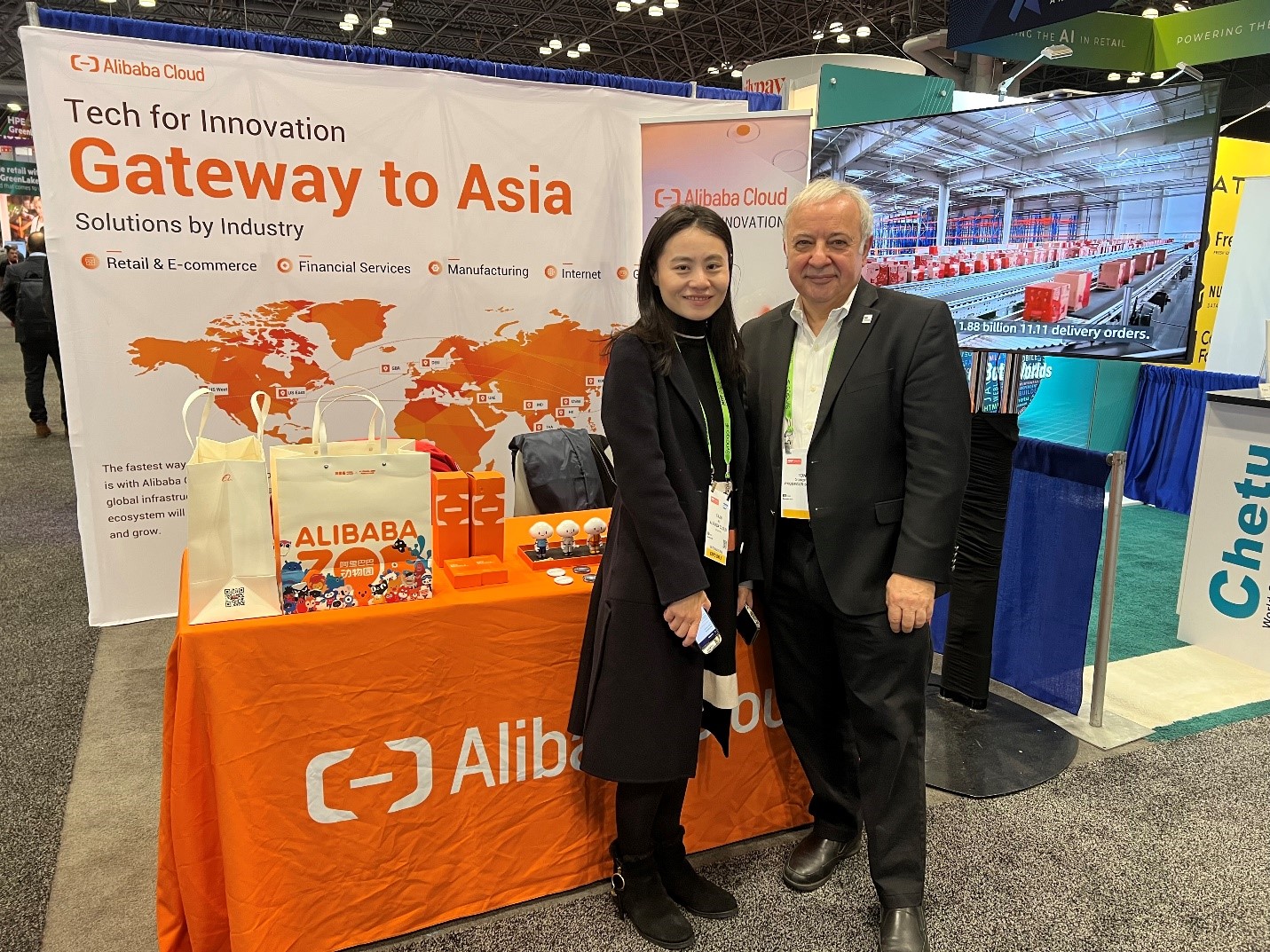 and the Amazon Dash Cart, both of which advance frictionless retail. Great to see Alibaba Cloud with an exbibit in 2023.
China was the epicenter of retail innovation pre-COVID-19 and Alibaba led on multiple fronts with solutions that can still grow retail revenue for the rest of the world.
Digital technologies are dramatically improving with computer vision standing out. The quality of holograms was a surprise, including this one of me from the Verizon Business exhibit.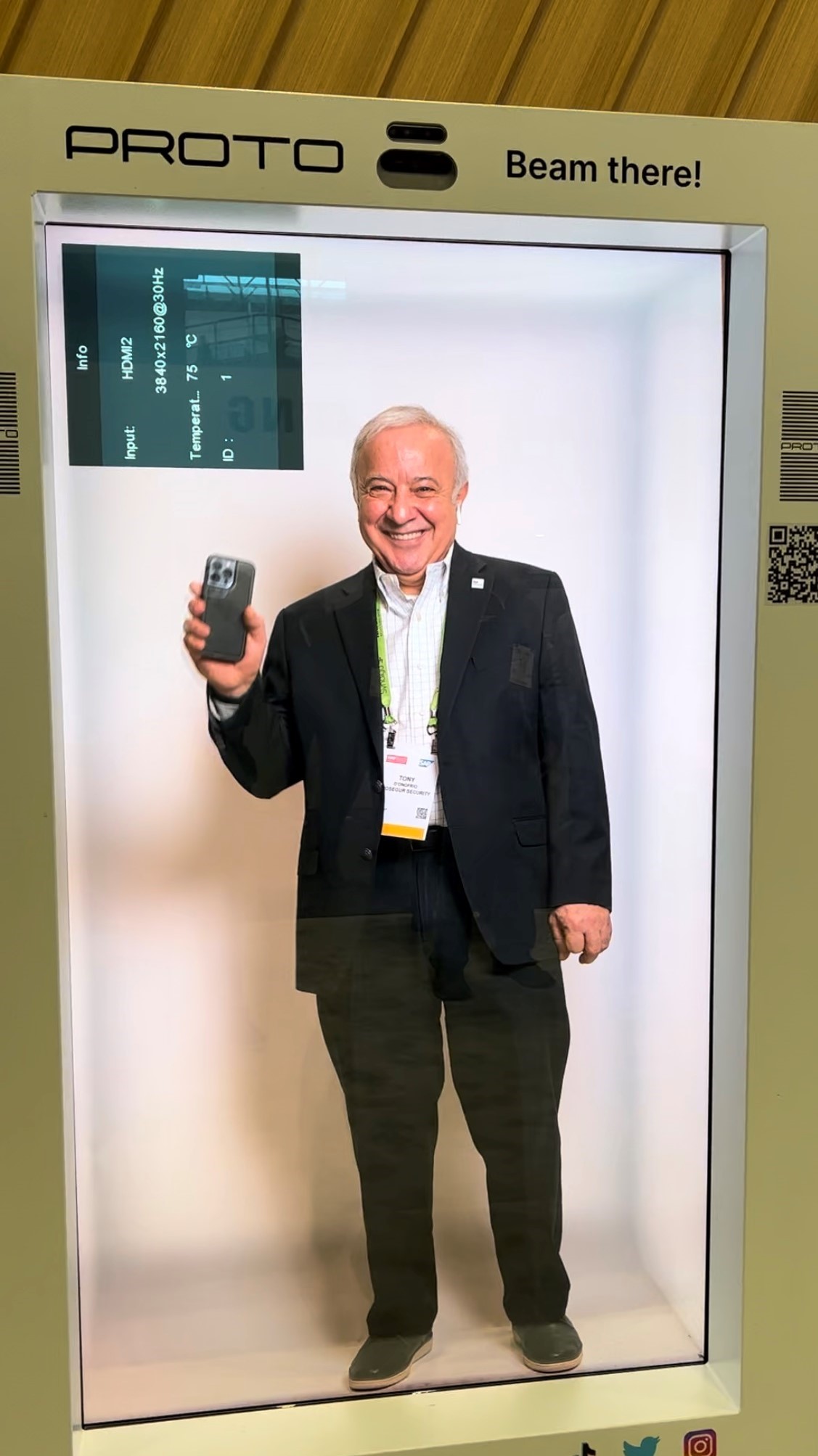 As I said in the social media post, "beam me up retail." Interesting possibilities in improving customer services, help desks, theft deterrence, and even those dreadful video meetings for hologram technologies.
The number of sensors available to retail is expanding. In the Retail ROI section, you can see the power of RFID in driving in both sales and profit growth. Electronic shelf labels are expanding their presence and are needed more than ever because of inflation to keep up with pricing changes. Computer vision applications are growing with one provider indicating their AI technology is deployed in 80,000+ self-checkout lanes. Carts are getting smarter with more sensors. In my view, we are not moving fast enough in integrating sensors, especially in the store core center, to keep up with digitally finicky empowered consumers to continuously switch brands.
Great to see the improved focus on loss prevention with the recent appointment of David Johnston as NRF Vice President of Asset Protection and Retail Operations. Consider the following:
In the November earnings call, Target's CEO reported $400 million due to inventory shrink and organized retail crime, a theme that has come up with multiple other retailers.
According to NRF's own research, eight in 10 retailers surveyed report that the violence and aggression associated with ORC incidents increased in the past year.
I had the pleasure of hosting 25+ Loss Prevention executives on Tuesday night and innovation is top of mind in addressing these industry challenges. Also enjoyed kicking off a new year of innovation for the Loss Prevention Research Council at Bloomingdale's.
Courtesy of the IHL Group, let me close this section with the list of their top 5 retail technologies for 2023 presented at both RetailROI and the Big Show: geo-location, electronic shelf labels, WAZE for stores, mobile check-out, and better mobile tools for store associates. The support cast required for success that retail winners are already focused on includes RFID, edge computing, microservices, extending mobile communications to places like the parking lot, and updating Point-of-Sale.
Miss 1: Live Streaming
Back in September 2020, I wrote that "Livestreaming is the Video-First Future of Retail." This sales technique mixes ecommerce and social media into real time influencers sales. In China, E-marketer projected this market to be valued at over $479 billion in 2022.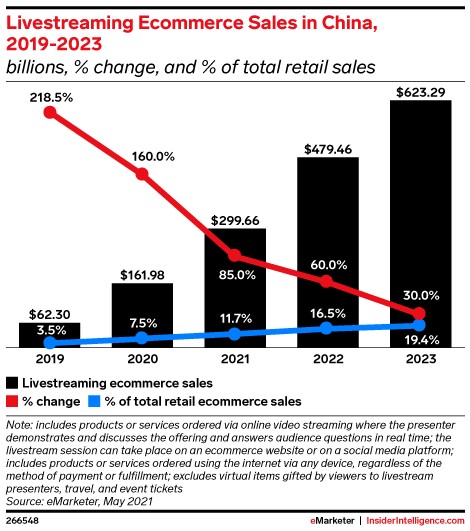 Livestreaming is a missed revenue opportunity for retailers in an era when 6.8 billion people worldwide carry smartphones and they can be influenced to shop. The USA has the highest penetration with 82.2% of the population owning a smartphone. Expected more livestreaming innovation at this year's edition of the Big Show.
Miss 2: Retail Media
A prediction by NRF for 2023 was to "look for more retailers to jump on the retail media network bandwagon. The channel casts a wide net when it comes to new possibilities for increased revenue." Projections are that retail-based ad revenue was $101 billion by the of 2022 and could reach $160 billion by 2027.
In February last year, Walmart and Target disclosed advertising revenue for the first time, at $2+ billion and $1 billion respectively. In 2022, Amazon generated nearly $38 billion in ad revenue.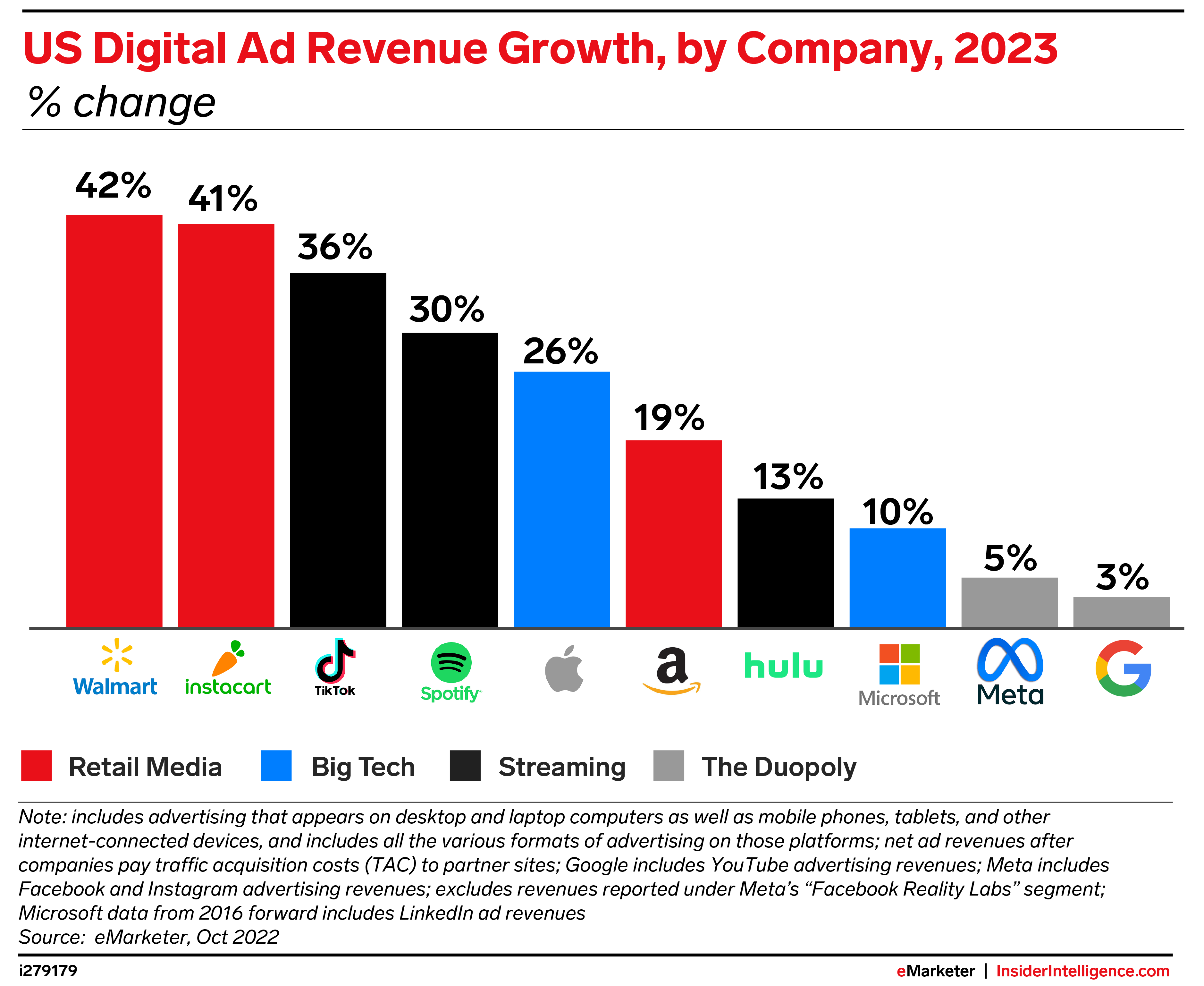 Note the growth of retail media versus other tech.
The retail store is the next digital frontier for advertising to influence consumers and create stronger brands. Did not see enough content NRF 2023 in both exhibits and presentation on this major growth opportunity.
Lots of positive retail innovation leadership lessons from NRF 2023. Rekindled friendships were especially positive this year as COVID-19 kept many of us apart too long.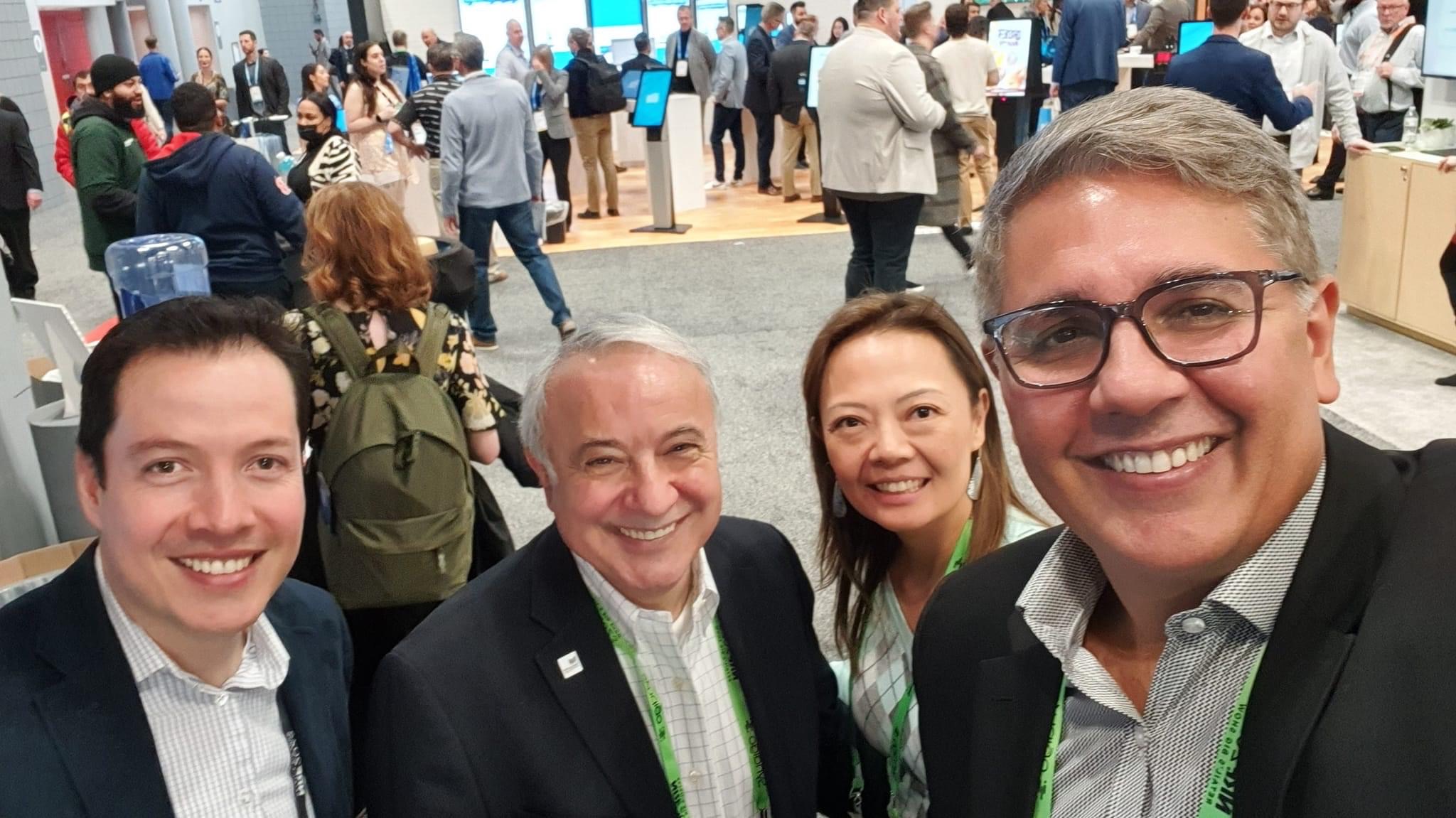 Outstanding parties and dinners were a great refresher of why in person communication is what still makes the difference to life and success. Wish you all a healthy prosperous New Year.