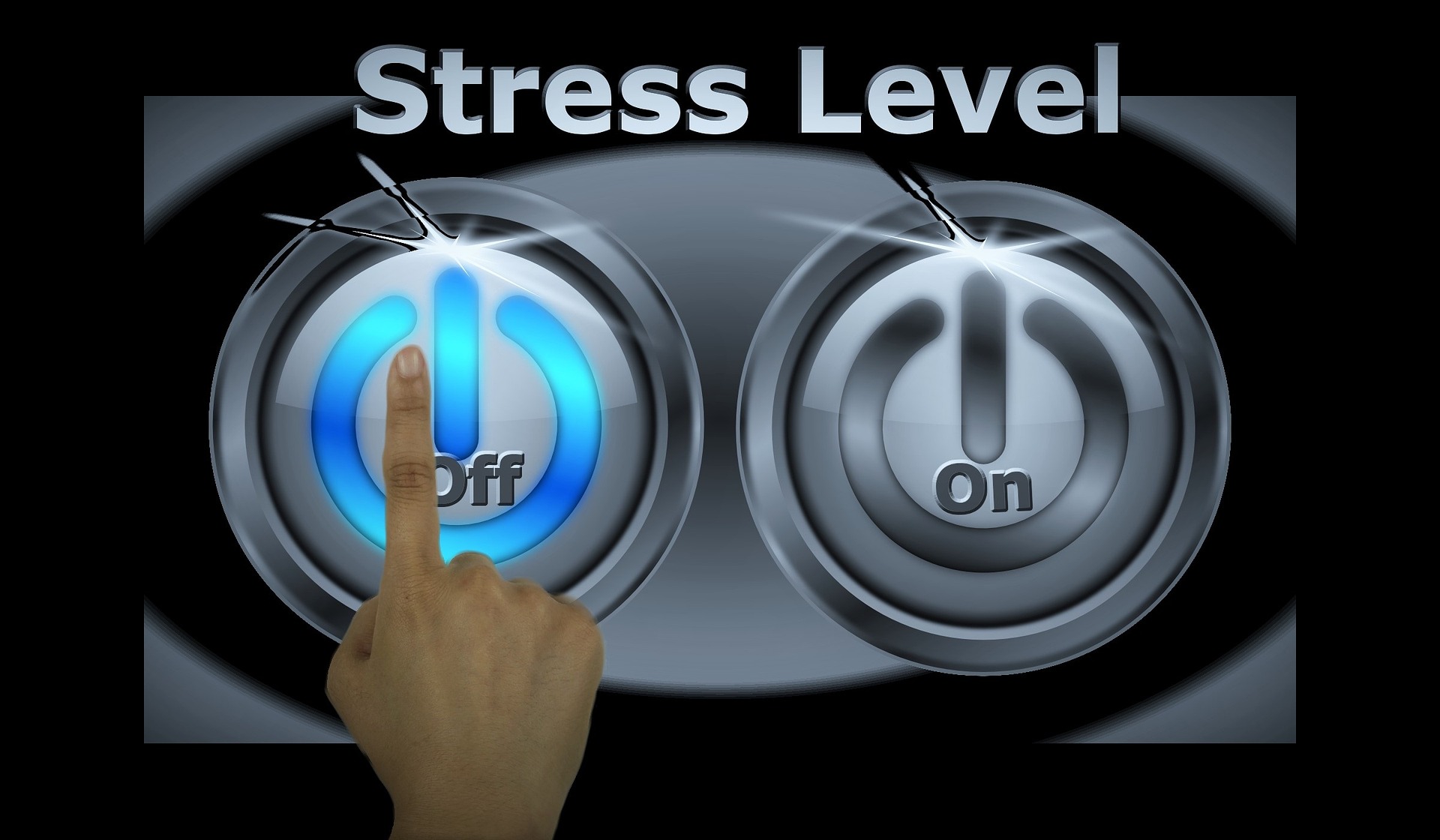 "There is a Chinese curse which says, "May he live in interesting times." Like it or not, we live in interesting times. They are times of danger and uncertainty; but they are also the most creative of any time in the history of mankind." - Robert F. Kennedy, June 6, 1966
The title of this article is from the latest International Monetary Fund (IMF) report on the state of the economic world in the fall of 2022. IMF now forecasts global GDP growth to slow dramatically from the 6% in 2021 to 3.2% in 2022 and an even lower 2.7% in 2023. The news is especially bleak for advanced economies.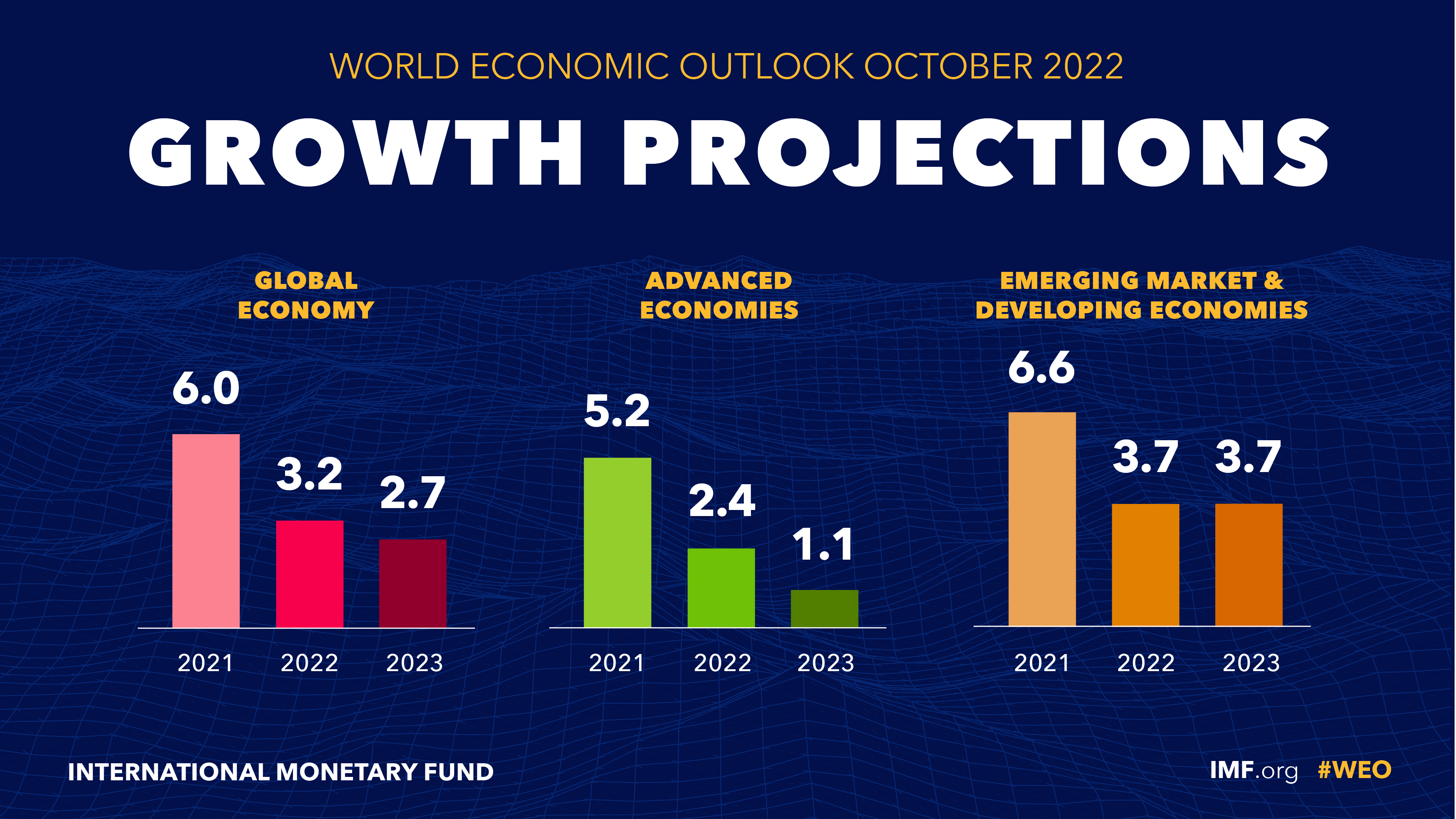 According to the IMF, a third of world economy faces two consecutive quarters of negative growth, the technical definition of a recession. Global inflation is forecast to rise from 4.7% in 2021 to 8.8% in 2022, 6.5% in 2023 and 4.1% in 2024. Euromonitor forecasts similar higher inflation into 2023.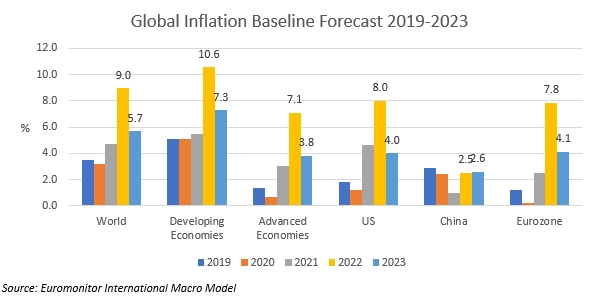 This article summarizes the state of the economic world, the 2023 risks, and more importantly the impact on consumers and retailers.
A Risk Filled 2023 Year Ahead
Economic risks just discussed are just the beginning of the headwinds that the world could potentially face in 2023. The Economist Intelligence Unit added 10 additional risk scenarios that could reshape the global economy.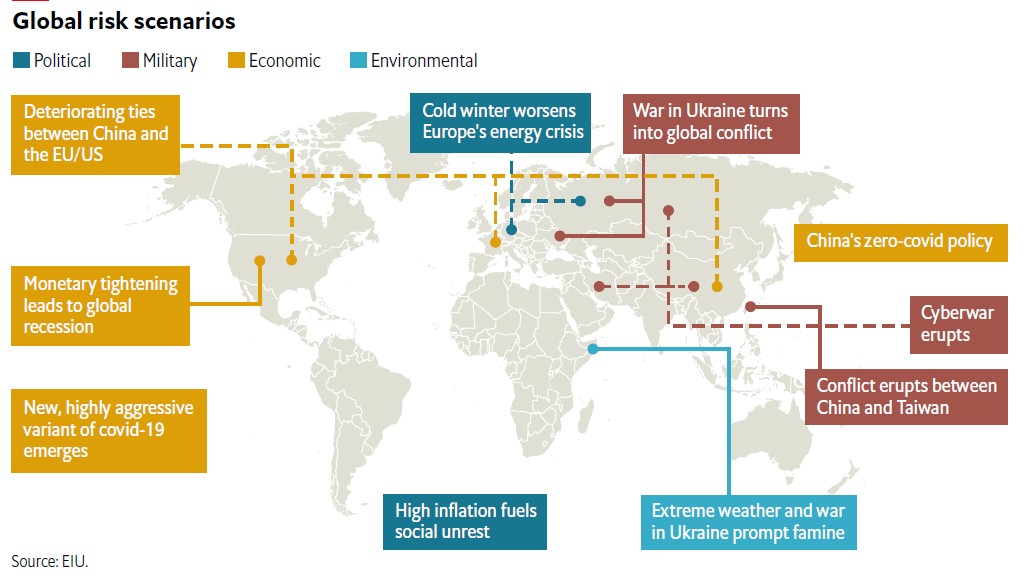 Summarizing each of the ten risk scenarios and their probability:
A colder winter exacerbates the European energy crisis: High Probability; Very High Impact.
Extreme weather adds to commodity price spikes, fueling global food insecurity: High Probability; Very High Impact.
Direct conflict erupts between China and Taiwan, forcing US to intervene: Moderate Probability; Very High Impact.
High global inflation fuels social unrest; Very High Probability; Moderate Impact.
New variant of coronavirus, or another infectious disease, sends global economy back into recession: Moderate Probability; Very High Impact.
Inter-state cyberwar cripples state infrastructure in major economies: Moderate Probability Very High Impact.
Further deterioration in West-China ties forces full decoupling of global economy; Moderate Probability; High Impact.
Aggressive monetary tightening leads to global recession: Moderate Probability; Moderate Impact.
China's zero-covid policy leads to severe recession: Low Probability; High Impact.
Russia-Ukraine conflict turns into global war: Very Low Probability; Very High Impact.
Over a half billion people live in countries that rely on Russian and Ukrainian wheat. Two-thirds of the world's population lives in countries that are neutral or Russian leaning as it relates to the war in Ukraine. China remains a wild card for the global economy due to its size, manufacturing importance, and it's zero-Covid-19 policy.
The Inflation Stressed Consumer
New First Insight research confirms that inflation is lowering consumer confidence in multiple major economies.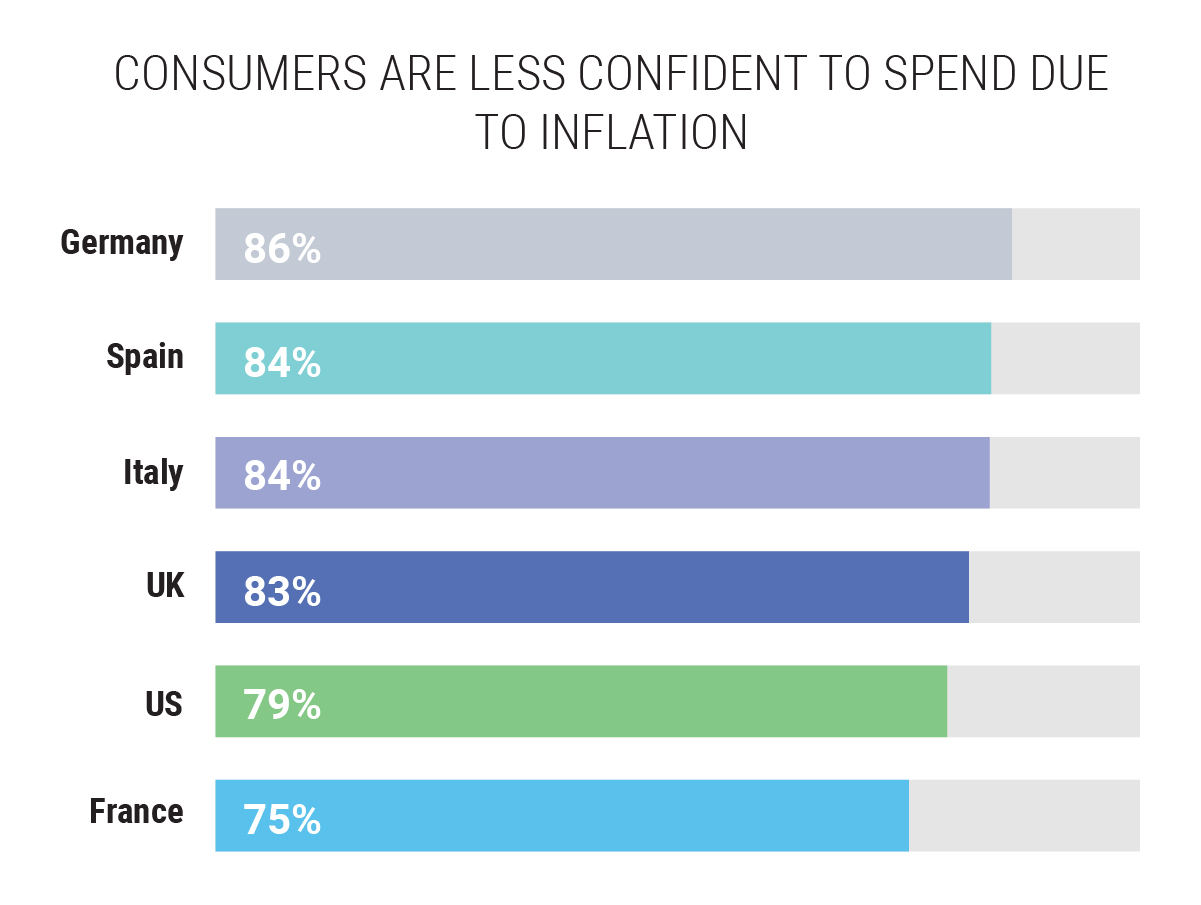 As JP Morgan summarized, here is how inflation will impact consumer confidence and spending:
Rising inflation will mean consumers will spend less overall - 47% of consumers in UK and 56% of USA consumers are planning to cut back.
Consumers will trade down to private label brands - Brand switching is particularly evident for staples such as household products (37%), snacks and candy (27%), frozen foods (29%), and dairy and eggs (26%).
The effects of inflation on cost of living will be uneven across regions - Europe will be the epicenter of the cost-of-living squeeze.
USA consumers are now spending an additional $445 per month buying the same items as they did a year ago. Thirty-one percent of USA parents say they are struggling to cover day-to-day expenses, 56% do not consider themselves to be financially "healthy", and 46% of 55-64-year-olds are worried about their retirement savings.
Inflation concerns will spill over into this holiday season with
40% of consumers believing inflation will impact their holiday shopping decisions;
84% plan to find ways to reduce the cost of their purchases;
Half plan to use credit for some of their holiday purchases; and
More than a quarter will go into debt to fund holiday spending.
German consumers are the most pessimistic on how long inflation will last.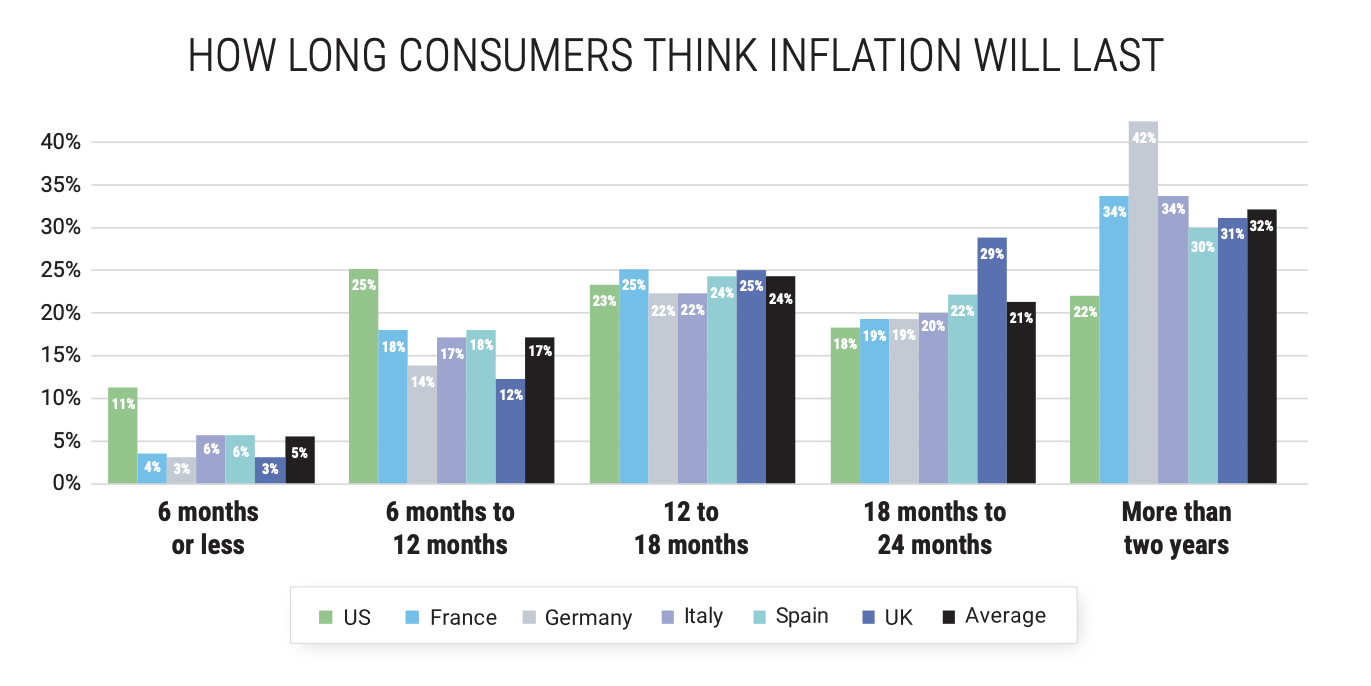 As Deloitte points out, "the longevity of this current spell of inflation raises important questions. Short-term spending shifts that consumers may use to weather the inflation storm run the risk of cementing into longer-term habits. While consumers have demonstrated that inflation perceptions can quickly change, it remains to be seen how quickly spending confidence can recover."
Retailer Turbulence Returns
Surprising new First Insight research points to a major disconnect between consumers and retail executives.
58% of retail executives think that consumers are shopping more for deals, but this is true for only 40% of consumers.
43% of retailers think consumers are buying less overall, yet only 29% of consumers admit that this is the case.
40% of retail executives think consumers are using more coupons, compared to only 24% of consumers.
52% of retailers believe that consumers are reducing their spend on apparel, footwear, and accessories because of higher prices when, in fact, only 40% of consumers indicate that they are doing so.
40% of retail executives believe that consumers are cutting back on home décor and furniture items, when only 22% of consumers are spending less on their homes.
When asked if they believe the country is currently experiencing a recession, 66% of consumers said yes, which compares to 75% of executives polled.
29% of shoppers said they are saving less versus 15% of executives who believe shoppers were saving less.
94% of executives think shoppers have less confidence to spend versus 79% of the consumer respondents.
Interesting the 2023 retailer priorities identified in the same research.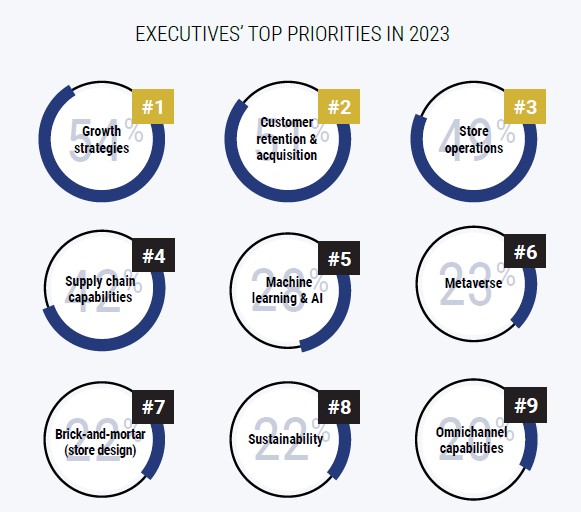 "Many retailers are already dealing with excess inventory issues after over-ordering during the peak of the supply-chain shortage, having seasonal items delivered late or seeing consumers' preferences change." Strapped consumers spending less could force retailers to heavily discount leading to lower retailer profitability in the second half of 2022 and into 2023.
"Due to inflationary and macroeconomic headwinds, the most vulnerable retailers are expected to be those that sell to middle and lower-income consumers, sell primarily discretionary goods, and have weak balance sheets." A slowing economy, "in the latter half of 2022 and into 2023 may result in a wave of store closings and bankruptcies (especially those with high debt), but likely not as dire as the years leading up to, and including, the pandemic."
The pain will be uneven, with some sectors having more challenges as the latest USA sales results below indicate.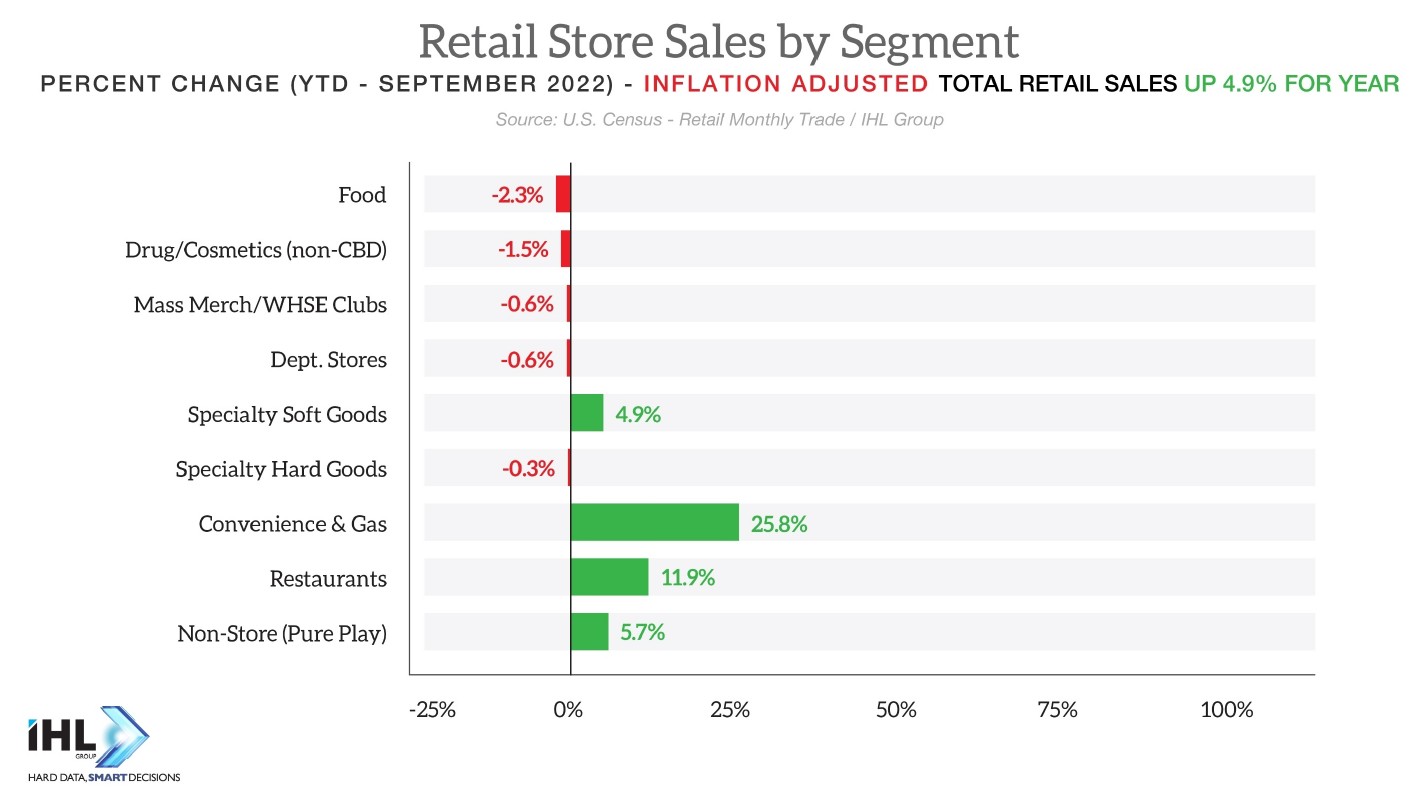 We are indeed living in interesting times. Both consumers and retailers are facing substantial challenges ahead. But as the opening quote reminds us, history is filled with difficult moments. The smartphone, the internet, e-commerce and the continued exploding innovation around us are a vivid reminder that we are in an even more creative time in history. The best is yet to come.