In the past twelve months, I have spent substantial quality time with global retailers, expanded my social media reach, engaged a substantial number of technology companies including more Silicon Valley startups; all focused on being a driver of disruptive retail change. Reflecting on what I saw and heard in my just completed European tour this week, I can confirm that retail issues and solutions continue to have global tendencies.
This post will introduce you to what I believe are the top 3 next wave retail growth technologies. These solutions have both security and operational applications, but because I am attending the Retail Industry Leaders Association (RILA) Asset Protection conference starting this weekend, some security aspects will be emphasized.
You Can Run, but You Cannot Hide
Walking through Paris on a Saturday a couple weeks ago and seeing all the major brands with boarded-up windows was a stark reminder that violence is a global challenge. There is consensus when I ask the question either directly or in executive forums that I have hosted around the world that retail violence is what keeps most security professionals up at night.
In the United States, violence in retail stores has been a growing issue for some time. In 2018, D&D Daily reported the USA retail industry had 488 violent deaths, up 15% from the previous year. Forty-two percent of the deaths were customers and 19% were store associates.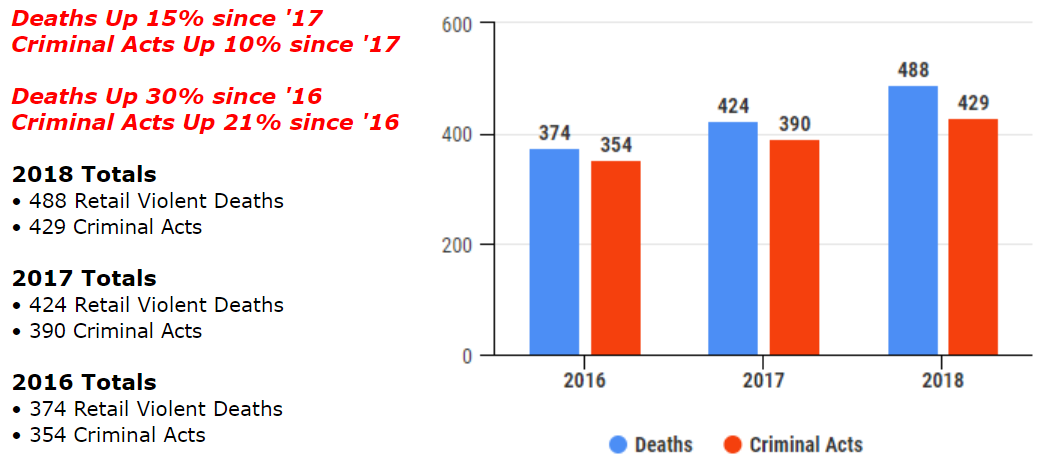 Quarterly comparisons for Q1/2019 had deaths up 12% with 50% being customers and 22% being store associates.
Having recognized early the challenge of safety for customers, store associates, and law enforcement, the first private equity owned company that I sought to engage post early-retirement focused on Global Positioning Systems (GPS) solutions inside physical retail stores. Rationale for approach is that increased violence requires faster engagement with professionals trained to deal with it.
For security reasons will not discuss specific GPS approaches and methods inside stores, but privileged to report that the private equity owned company that I have been working with had nearly 1000 criminals arrested in 2018 and nearly $8 million in recovery of physical assets by law enforcement professionals from both retail stores and banks. For Q1/2019, 254 criminals were apprehended and over $2.4 million recovered from inside retail stores and banks.
Artificial Intelligence, I Can See You Now
In all my global presentations, I always presented video as one of those disruptive technologies with substantial opportunities for brand value differentiation and growth. Video is now a key driver of Big Data.
"Over 2.5 quintillion bytes of data are created every single day, and it's only going to grow from there. By 2020, it's estimated that 1.7MB of data will be created every second for every person on earth." Looked at your social media feeds lately? Today nearly 2 billion people are viewing YouTube videos and 400 hours of new content is uploaded on the platform every minute.
The convergence of artificial intelligence (AI), machine learning, and video will lead to many innovative security and operational solutions. Video is fast becoming the new BOT (automated / robotic) food for AI.
Note the ranking in this "2019 Emerging Retail Technologies" chart of AI / Machine Learning published in a blog earlier this year.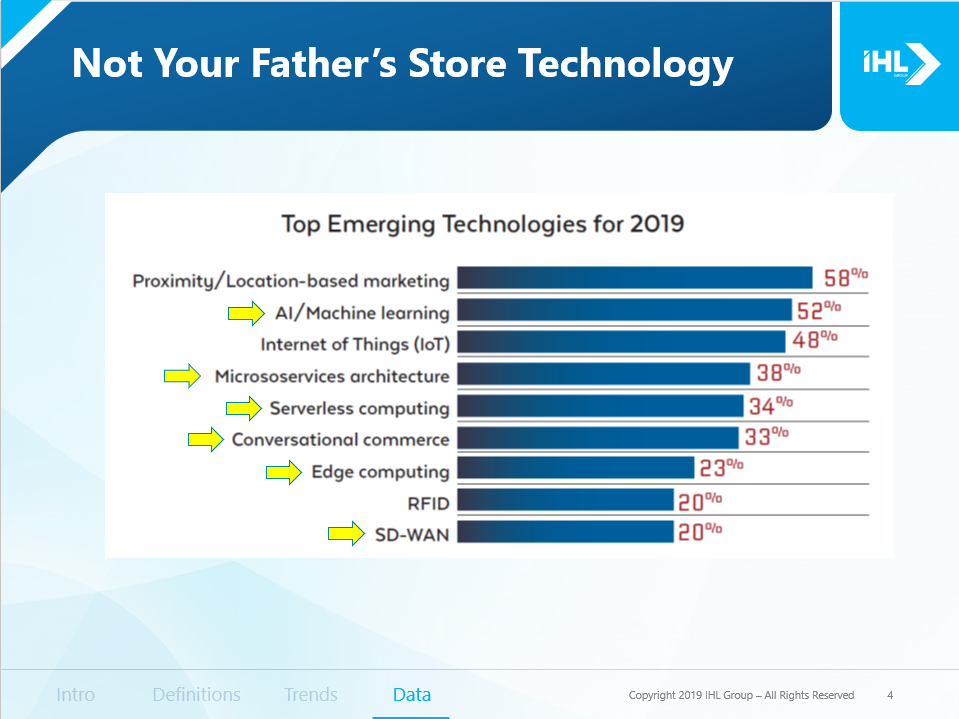 Currently finalizing which of the top three finalists either venture or private equity companies in this category will get my attention the rest of 2019. More on this topic by mid-year.
Facetiming the Future
In December 2018, I completed a series of articles on the growth of face recognition. As I said in the opening, unlocking your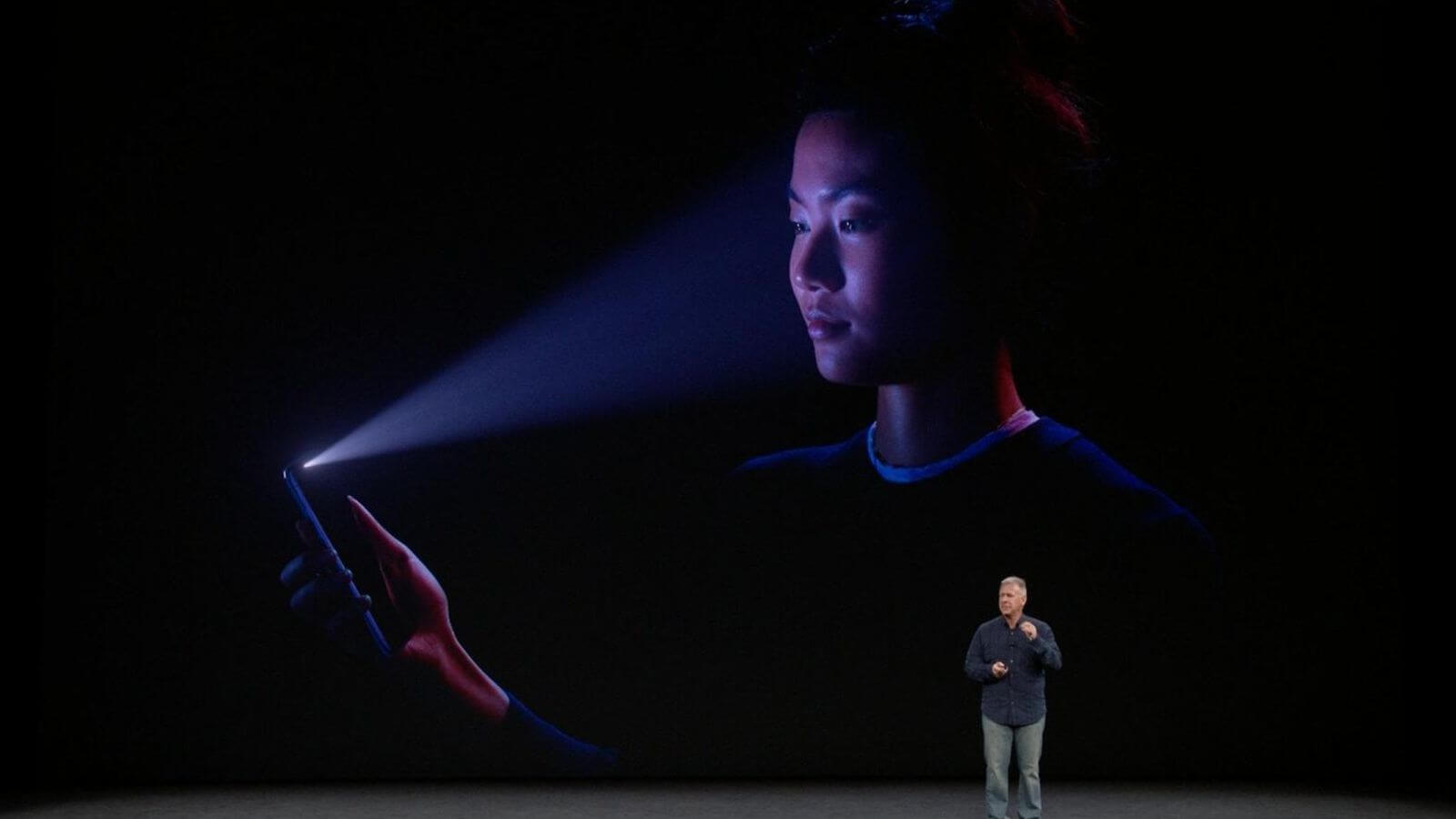 smartphone with your face is on the simple end of the spectrum of adoption and only the beginning.
On the complex end of the spectrum is China and its deployment of 600 million cameras across the country to achieve the end goal of giving each citizen a "social credit score" for services with violations such as jaywalking fully automated. Somewhere in the middle is the airline industry. I used my face to board the international Delta flight in Detroit to Paris, not a gate agent looking at my passport.
Fully believe that the growth of this technology will continue, including its presence in retail. Again, to protect confidentiality and systems / methods will not into details of retail applications.
Working through two finalists with this technology to again determine which venture capital / private equity company will get my attention rest of 2019 and beyond.
Three Next Wave Retail Growth Technologies
More focus is needed in clarifying rules and regulations especially around artificial intelligence and face recognition for the general public. This is a recognized challenge, especially in Europe and by multiple technology leaders (see Face Recognition Series). Ultimately this will be a balance equation between privacy and value delivered.
In all aspects of my personal & business life, I have followed the rule of concentrating on the top three opportunities for professional growth. Summarizing, the three technologies absorbing a vast amount of my time in the last year have been GPS, artificial intelligence applied to video, and face recognition. By design, venture or private equity companies have been the focus, along with extensive engagement with global retailers for their guidance and insights on the disruptive future of retail.
--------------------
Look for more special announcements in the next 30 to 60 days on my increased industry engagement, including more updates to my personal website for you to directly access executive level weekly summaries.