"We're out of the (cash) register business.(2)" - Urban Outfitters CIO
As demonstrated by the recent Walmart announcement that they are expanding their "Scan & Go" iPhone app to 40 more stores in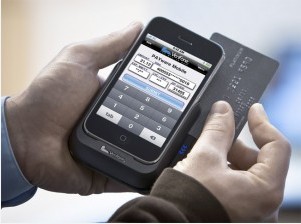 Denver, mobile POS continues to gain traction in global retail.
For Walmart, "Scan & Go enables a shopper to scan the bar codes on products as she (the shopper) picks the products off shelves and puts them into her shopping cart. The app creates a list of all products scanned. When the shopper has completed shopping, she presses the Done Shopping button and the app generates a custom QR code. The self-checkout terminals scan the QR code on the smartphone, tally the list, and ask the shopper to select a payment option to complete the transaction at the terminal.(1)"
Walmart joins multiple other retailers such as Aeropostale, Saks Fifth Avenue, and Urban Outfitters that have provided mobile devices / apps to their customers and store associates to improve / simplify the shopping experience. Urban Outfitters CIO put it succinctly in a recent RIS Top 5 Critical Disruptive Retail Solutions report when he said "we're out of the (cash) register business (2)."
In the continued battle against retail shrink, the loss prevention profession can and will play a key role in the still emerging mobile store environment. The latest USA study points to the following sources of shrink: Employees 43.9%; Shoplifting 35.7%; Administrative Error 12.1%; Vendor Fraud 5%; Unknown 5.5% (3). The 2012 USA Supermarket Survey further segmented employee shrink by isolating 31% of it to cashiers (4).
The rise of mobile solutions and the sources of shrink raise a substantial number of questions for the loss prevention profession. What happens when the customer is the cashier and / or all the associates in the store carry mobile devices that allow them to instantly check out customers? How do you secure a mobile POS transaction? Will shrink increase with mobile POS? How do the basics of store operations in handling a customer POS transaction get addressed when the retailer is not involved in the checkout process? How do you handle all those devices that today are located in a stationary POS station? How do you verify at the exit that a customer has actually paid for that item using a mobile device? How do you handle the distribution of shopping bags? How do you prevent item switching, i.e. scanning and paying for a lower cost item, but substituting it with a higher cost similar item?
To answer some of these questions, in February 2012, Aberdeen published the following set of ideas that retailers should consider for loss prevention in a mobile POS environment (5):
New methods to deactivate electronic article surveillance tags. According to Aberdeen research, 74% of retailers continue to adopt EAS tags to curb internal and external theft. Unlike stationary cash wraps however, mobile solutions don't have deactivation stations. And associates need at least one hand to hold a mobile device. Chains might want to consider developing a handheld mobile app or handheld attachment that enables associates to deactivate security tags;
Expanding the range of closed circuit television systems. Aberdeen research indicates that 76% of retailers use CCTV video surveillance focused on POS check stands and nearby perimeters — a solution that delivers real-time visual footage and analysis of shoplifting and internal theft. Since mobile transactions can happen anywhere in the store however, retailers should consider repositioning CCTV systems to monitor all activity happening store-wide;
Arming store managers with tablet computers. As the breadth of CCTV landscape is expanded, managers need to stay abreast of what those cameras see. By incorporating tablets linked to CCTV systems, they gain a near-real-time birds-eye view of activity caught by CCTV cameras.
Adding new layers of network protection and keeping mobility in the payment card industry data security standards (PCIDSS) purview. Volumes of sensitive transaction and customer data flow between in-store and consumer mobile devices and corporate networks, and all of it is susceptible to hackers. Thus, retailers need to improve network firewalls for authorization and validation of all transaction data traveling across the network.
Above ideas provide a sensible start. To succeed in the future mobile environments, retailers must also consider:
Working with loss prevention technology companies in driving greater network integration of existing security solutions. Connected devices lead to a smart more secure store. The connectivity of security devices can be leveraged to further secure the mobile environment through both data and visual intelligence.
Loss prevention professionals need to partner with operations and information technology departments in their chains to provide integrated security solutions for the mobile store environment. EAS, RFID, IP video, and video analytics are sample technologies where greater cooperation and integration will lead to new solution sets that can reduce shrink, even in a more mobile store environment.
The devices themselves, those supercharged iPads and iPhones, are likely to walk out of stores, if they are not secured. Consider protecting these devices today with EAS in the near future with RFID.
The mobile shopper is also typically more connected and more likely to leverage social media to express their views on instore customer experiences. Retailers need to balance security with the customer experience, knowing that a negative customer experience can go viral through social media.
As new loss prevention concepts to address a more mobile store environments are still in the early stages, we will come back to this topic in future blogs. The future of retail will include onmichannel driven mobile customer experiences. The progressive retailers will expand to these new horizons by making sure that loss prevention is a key partner in securing mobile transactions, reducing shrink, and improving overall store profitability.
(1) http://ow.ly/idtdu (2) http://ow.ly/idvjV (3) http://ow.ly/iEwKG (4) http://ow.ly/iEwNz (5) http://ow.ly/iEyQt Image from http://ow.ly/iEDPd