Amazon 4-star - London UK
Jeff Bezos had a few amazing tricks up his sleeve as he originally wanted to name the company 'Cadabra'. Amazon's first lawyer talked him out of it as the name sounded too similar to 'cadaver', especially over the telephone. When the company was founded on July 5, 1994, Bezos settled on the name Amazon because it started with the letter A and its association with the largest South America River.
Even though the original company focused on selling books online, Bezos' vision was always to become the 'everything store.' Fast forward to June this year, Amazon is now the most visited e-commerce website in the United States, with nearly 2.5 billion monthly visits. To put it in perspective, that is more than the next six major retailers online traffic combined.
"Beginning with booksellers, the e-commerce giant has expedited the closure of many retailers and threatens to redefine the standards of shopping in a digital world. Retailers are forced to lower prices, optimize their systems and processes, and reduce profit margins in favor of competition; meanwhile, Amazon continues its trek toward dominance. First coined in 2012 by Steve Weinberg, this is the Amazon Effect."
As we enter a new year, what is the status of the Amazon Effect? Is next year the end of physical retail? What are the key strategies to win the future of retail?
The Amazon Effect is Here to Stay
"In every Annual Report, Jeff Bezos attaches a copy of his original 1997 Letter to Shareholders. In that 1997 letter, Bezos outlines the fundamental measures of Amazon's potential success—relentlessly focusing on customers, creating long term value over short-term corporate profit, and making many bold bets. "This is Day 1 for the Internet," Bezos wrote, "and, if we execute well, for Amazon.com."
The Day One focus on innovation is reflected in the one chart that I use consistently in my continuously updated 'Disruptive Future of Retail' presentation.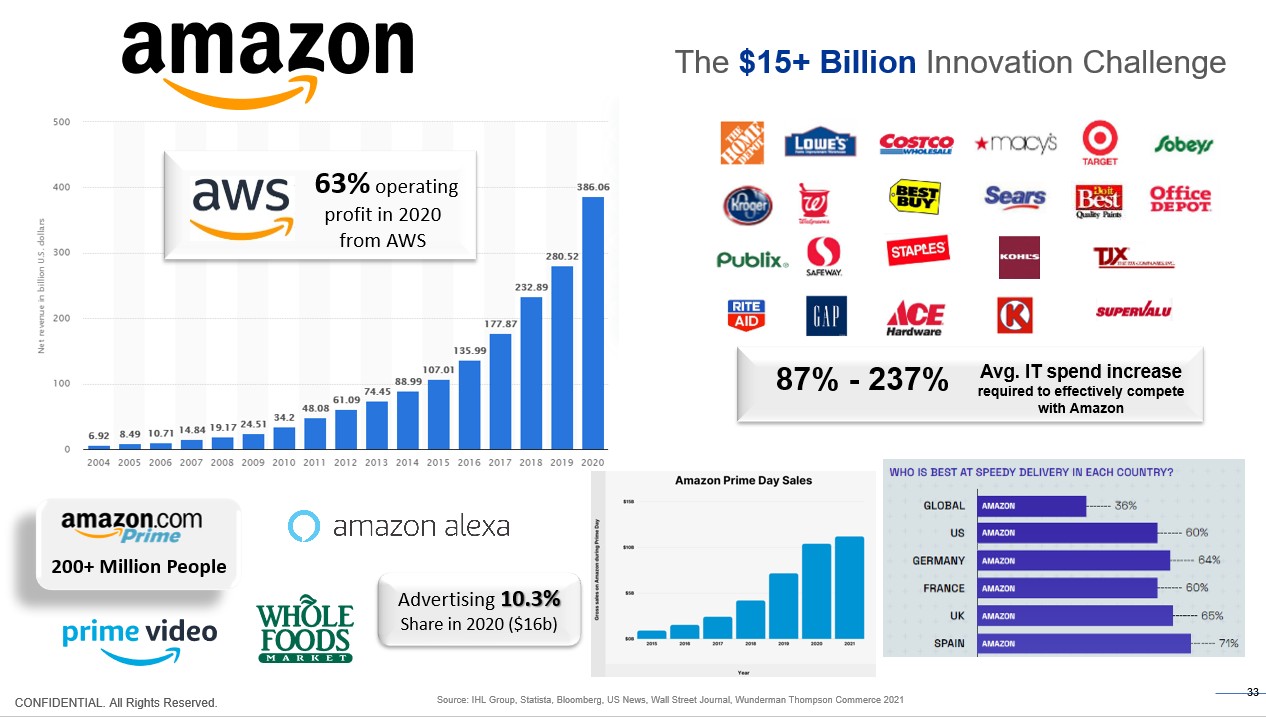 Note first the substantial revenue growth from 2004 and the company reaching $386+ billion in 2020. While all those products bought online drive revenue, major profitability for Amazon is derived from their AWS Cloud services.
Digital innovation and continuous transformation are key drivers of Amazon's growth and they far outpace IT spent than many of the major retailers listed. Examples that I list include the growing Amazon Prime program with 200 million members worldwide; the introduction of Alexa which in 2020 accounted for more than 50% of the USA smart speaker market share by brand; the growth of Prime Video with over 175 million consumers streaming videos.
Shopping holidays is also another experiment that keep growing. "Sales on Amazon during Prime Day reached $11.19 billion in 2021. An increase of 7.7% from $10.39 billion a year earlier."
Finally for this chart, the intensive focus on execution as reflected by the global ratings on speed of delivery.
Retailmaggedon is so Yesterday
Back in 2017 to 2019, the retail industry was buzzing with climactic end-of-world scenarios often labeled as the 'retail apocalypse' or 'retailmaggedon'. The theory was that the steady rise of Amazon and other online retailers would lead to the extinction of physical retailers and their stores.
The pandemic, which has accelerated digital transformation trends that were already underway by 5 to 10 years, is delivering the opposite result. Physical stores are not going out of business. Quite the opposite, as a recent USA IHL study pointed out.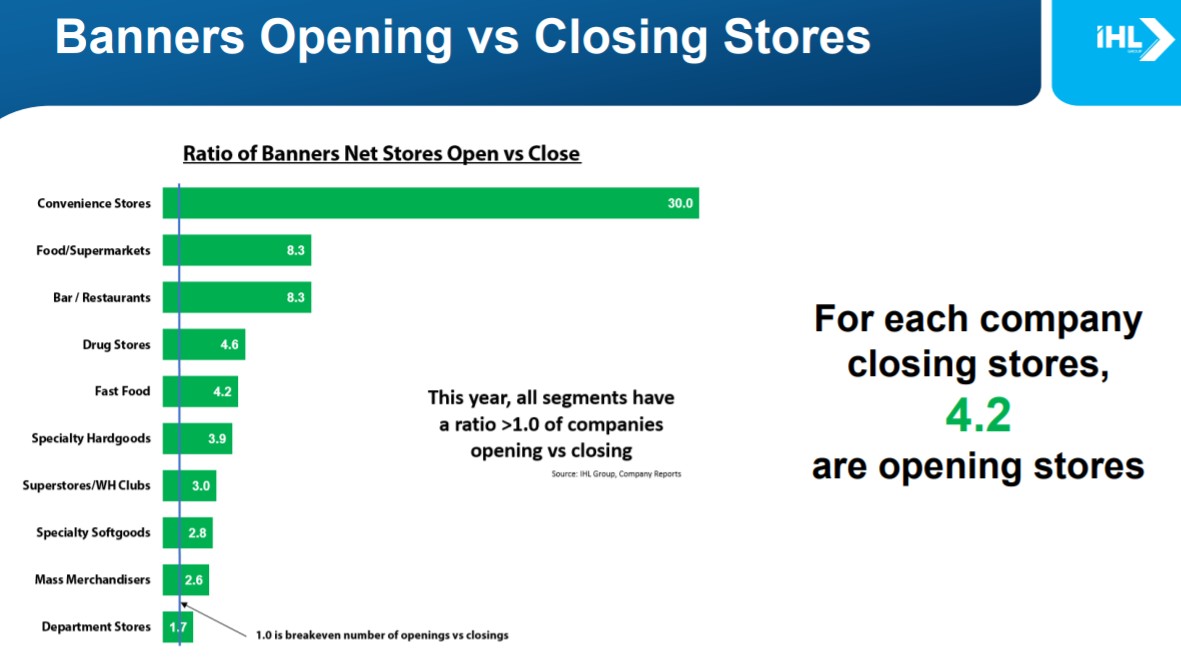 Note the ratios of openings to closures, even in previously written-off segments such as department stores. Stores are becoming vital micro-fulfillment centers in the battle to deliver products across all channels -- online and in-store -- at higher margins.
As the Economist recently summarized, physical store responded successfully responded to Amazon and the apocalypse by:
Embracing the digital world - Walmart late last year predicted that it's e-commerce sales would grow to $75 billion. The company was already investing pre-pandemic with retail services such as BOPIS (Buy-Online-Pickup-In-Store). Target is following similar strategies.
Taking full control of their product distribution - Nike is a clear example of this and you can find other articles on my website on their digital to physical innovation strategies.
The clear indicator of the importance of physical stores is Amazon. The company acquired Whole Foods to expand its presence in the extremely important grocery segment. Plans are also in the works for nearly 600 separate Amazon Fresh Stores by 2023. The company is even planning to open several physical retail locations that will operate akin to department stores, "a step to help the tech company extend its reach in sales of clothing, household items, electronics and other areas." Finally Amazon Four Star physical stores are coming.
Amazon Go type innovation will be at the center core of many of these brick-and-mortar investments. I recently visited both the 4-star and Amazon Fresh with Go Technology in London UK and the technology deployed is impressive. The stores are larger than original concepts and include multiple new digital technologies.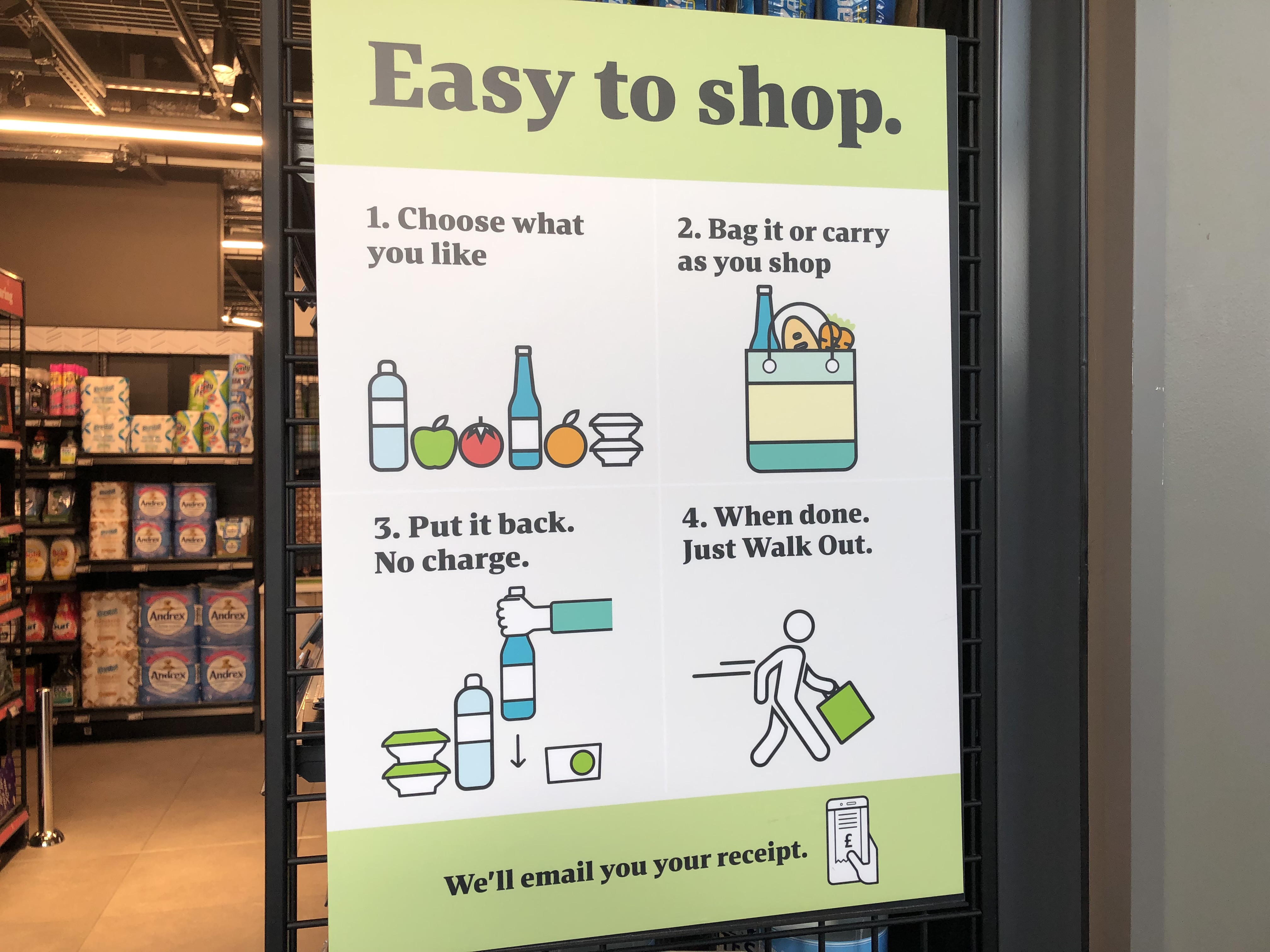 The Amazon Effect is here to stay. It remains a wakeup call for physical only retailers to intensify their digital innovation strategies to engage more tech savvy consumers. Brick-and-mortar stores are more valuable than ever as assets to increase margin and deliver immersive experiences.
But don't discount 'Cadabra' Amazon for they will surely have more digital tricks up their sleeve. Paraphrasing his 1997 words, do relentlessly focus on customers, create long term value, and make more many bold bets. Happy New Year.