The State of Retail RFID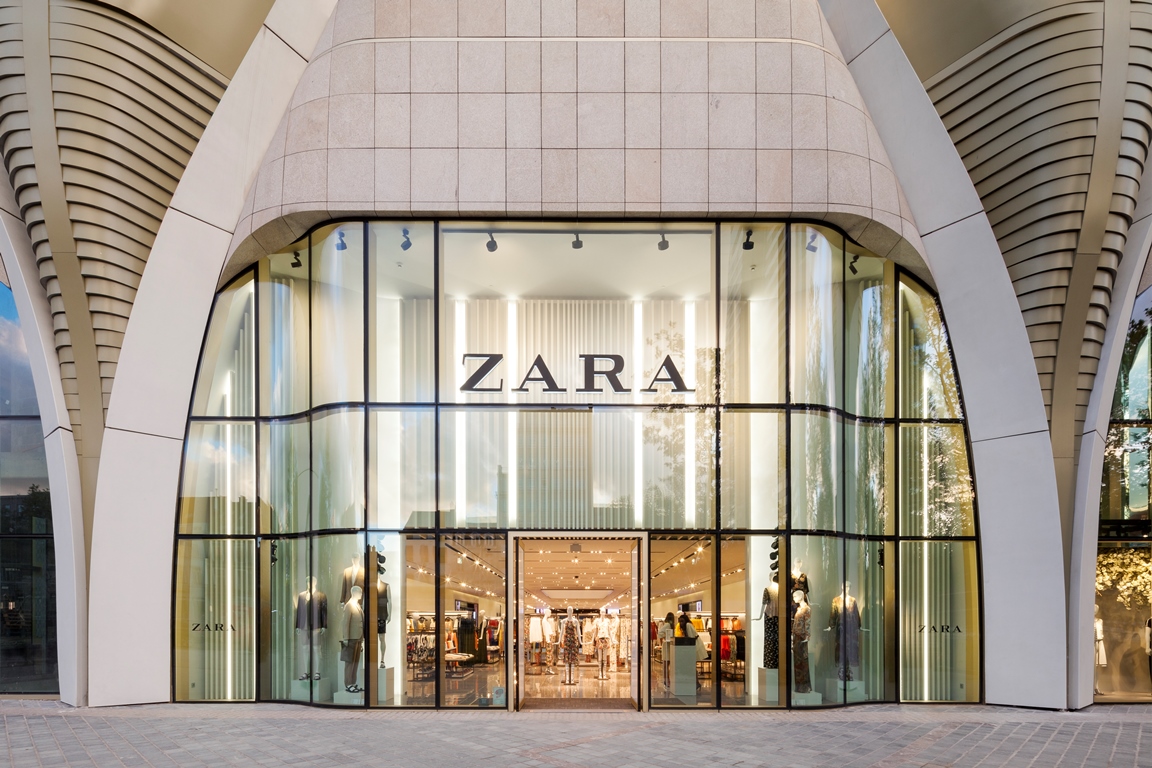 Retail is not dying. Today's consumers are being presented by an increasing number of shopping options. Online versus in-store engagement trends are converging and technology is increasingly the differentiating element.
A recent IHL research study titled "Out-of-Stock, Out of Luck - How Retailers Alienate Customers and Lose Billions Due to Poor Inventory Practices" prompted this relook at retail RFID. The top answers as to why consumers still prefer to shop in-stores include: want / need the product immediately, desire to touch and feel the item (try it on), don't want to pay expedited delivery charges, support local retailers, and convenience / easier than online.
Fast checkouts and products being in-stock are the two most relevant components of positive instore experiences.
A Different Kind of Amazon Effect
Below IHL chart is one of my favorites from the latest study. Note the stark reaction to out-of-stocks between Amazon Prime and Non-Prime consumers. "Prime members are 52% more likely to simply take out their phones and buy the item online after experiencing an out-of-stock at a store."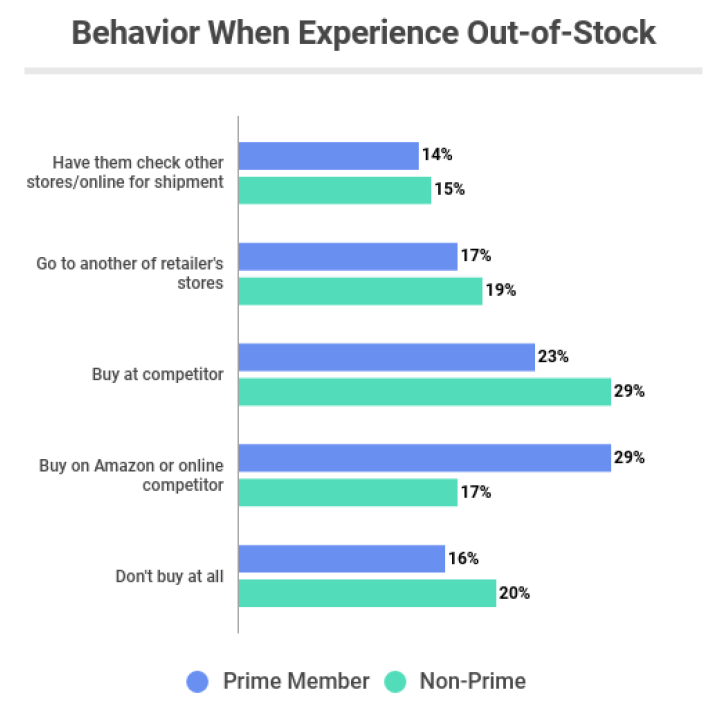 As the research summarizes, "upwards of 24% of Amazon's current retail revenue comes from customers who first tried to buy the product in-store."
The State of Retail RFID
Several studies earlier this year led to concerns on the adoption rates of RFID. Below from RIS / Gartner points to 74% of retailers having no plans to deploy in-store item level RFID.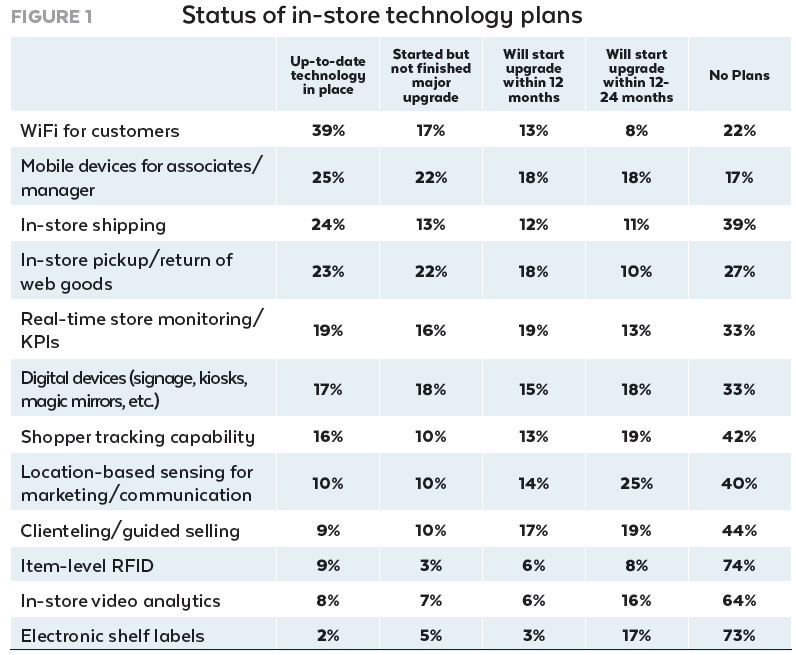 The low RFID adoption rate was reinforced by another retail study from RIS / IHL which ranked the emerging technology last.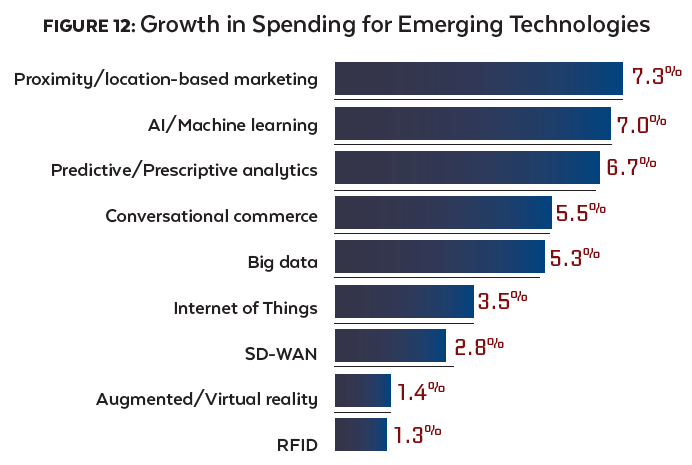 From the Apparel Magazine 2018 Technology Report, puzzling to me is the continuous industry fascination with RFID in loss prevention being the Number One focused area. As the out-of-stock data points out, the greatest ROI in RFID is in inventory visibility.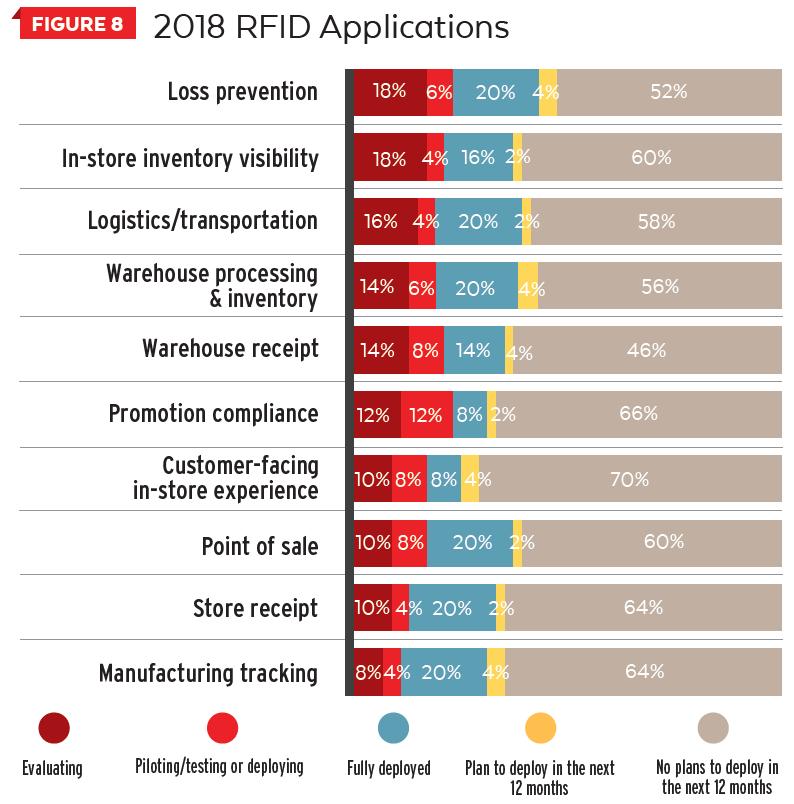 These discouraging RFID trends are counter to the adoption rates that I am seeing worldwide, especially in the apparel sector,
The RFID Opportunity
The answer to above data puzzle appeared in an IHL NRF 2018 chart partially discussed in one of my earlier blogs and recreated below from one of their latest presentations. Note the astounding higher focus on RFID for retail industry leaders.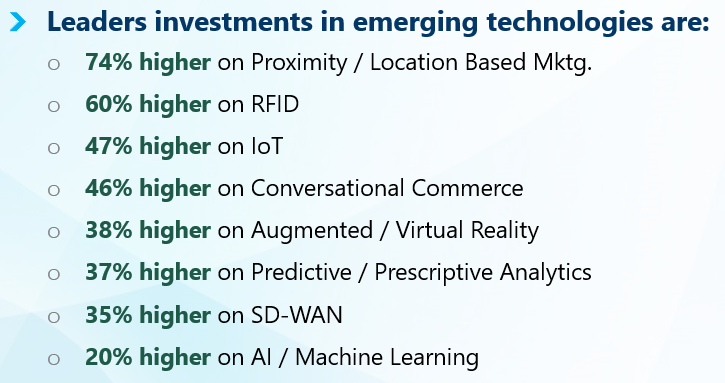 Having had the pleasure in either following or being directly involved in major RFID deployments at Zara, Macy's, Lululemon, and a few unnamed retailers, I can attest to the potential of RFID as a business transformation solution. It is never about the technology. It is about the increased inventory visibility and accuracy that leads to exceptional customer experiences.
Keeping Physical Retail In-Stock
"People talk about retail reinventing itself, but if we're honest with ourselves, the key elements are the same today as they have always been. Call the state of retail today "omnichannel" or call it "unified commerce," but it's still "retail." At the end of the day, the fundamentals of retail have always been about getting the right product to the right place at the right time."
Fully agree with above statement. Being out-of-stock means handing over your business, perhaps on a permanent basis, to your online competitor.
Keeping physical retail viable requires increased focus on both fast checkouts and products being in-stock, the two most relevant components of positive customer experiences. RFID and computer vision which was discussed in a previous autonomous stores blog are promising IoT technologies to deliver inventory visibility and a profitable future of retail.