While dealing with the Delta variant and continuing to recover from the COVID-19 health crisis, the hot days of August is a good time to ponder the economic and retail predictions for the balance of 2021.
The global economy is quickly recovering from the impact of the COVID-19 pandemic, with growth likely to approach 6% in 2021 and continue at 4.6% in 2022. However, while the global economic recovery from the COVID-19 recession has shown strong rebound effects, global output is still expected to remain as much as 2% below the pre-pandemic forecast up until 2023.
Brick-and-mortar sales generated over $18.5 trillion in the United States in 2020. After the past few months, I predict that we will see similar exciting changes across the retail industry starting in advanced economies. The USA National Retail Federation (NRF) raised their 2021 forecast in June and predicted that this year will be the fastest retail growth year since 1984. On the other side of the world, in an equally important large economy, China retail sales are projected to increase 14.7% in 2021.
The Steady Recovery of the Global Economy in 2021
In July, Euromonitor updated their 2021-2023 global GDP Forecast. Strong continued growth is projected in USA, China, developing and advanced economies.
Advanced economies have benefitted from more fiscal stimulus to support economic recovery. In the United States alone, fiscal stimulus is expected to add about 3% to GDP growth in 2021. Reports also show that advanced economies' real GDP levels are expected to slightly exceed the pre-pandemic forecast by 2023, partly because of the strong economic recovery of the United States. However, developing economies have not seen similar levels of economic growth, thanks to limited resources and access to vaccines, which has led to significant ongoing coronavirus outbreaks in Latin America, India, and several other Asian countries, like Indonesia.
Vaccination rates are playing an important role in the global economic recovery. A new WHO COVID-19 Vaccine Equity dashboard points out that low-income countries would add $38 billion to their GDP forecast for 2021, if they had the same vaccination rates as high income countries. Full recovery is at risk without the entire global population having greater access to vaccines with some regions of the world not recovering to pre-COVID-19 levels until 2024.
Yes, Costs Are Going Up — But So Are Economic Growth and Digital Transformation
Although many economies have bounced back significantly from the obstacles thrown their way in 2020, there are still some long-term effects of the coronavirus pandemic that we are watching unfold. For example, the global superconductor shortage has highlighted some major vulnerabilities in the global supply chain.
In 2021, the retail sector is once again demonstrating its importance and economic contribution resilience. USA retail sales were up 12.1% year-over-year in June, with apparel and electronics retailers seeing huge growth compared to last year. For the year, NRF forecasts sales to be up 10.5% to 13.5%.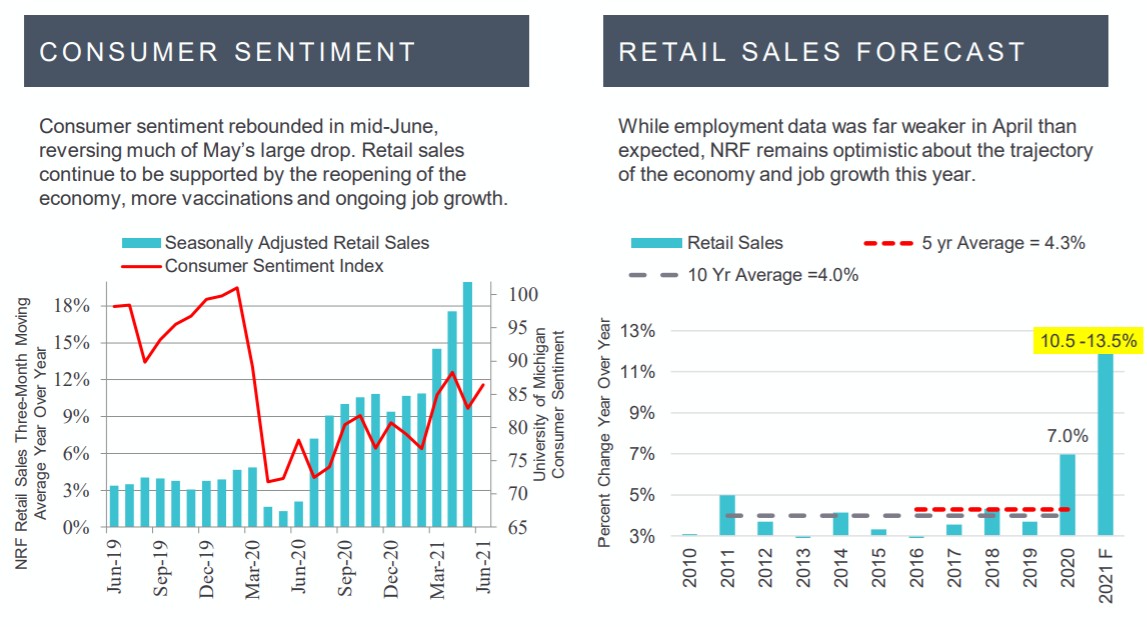 Source: National Retail Federation
China has also seen some promising long-term growth, with their annual retail sales growing 13% in June.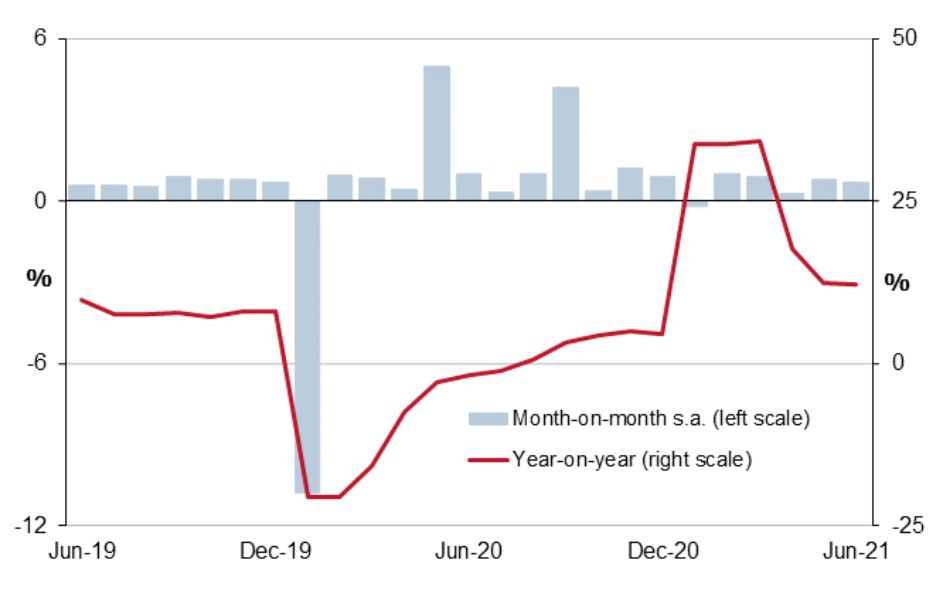 Growth has returned with increased costs. Salesforce forecasts that USA retailers will spend over $220 billion extra for goods in the second half of 2021, a 62% increase from last year because of an extra $12 billion spent with suppliers, $48 billion more in wage expenses, and an additional $163 billion in logistics costs.
Compounding the challenges of cost increases in USA are continued labor shortages. Salesforce predicts that retailers will face a labor shortage of about 350,000 workers heading into the holiday shopping period. The scarcity of workers is also expected to drive wages up as much as 46% higher, to a median of $19 this holiday season.
Retail Trends to Watch in the Second Half of 2021 and Beyond
With major transformation on the horizon for the retail sector in 2021 and beyond, we can expect to see sustainable growth that prioritizes the customer, from a continued shift to omnichannel shopping and e-commerce to using technology to create a more personalized shopping experience. Here are 4 trends in retail that we can expect to see in 2021 and onward:
Disruption to customer loyalty
A report from McKinsey found that about three-quarters of Americans changed their shopping habits in 2020, with 40% of them changing brands too — twice as fast as 2019. Younger generations were even more likely to switch, demonstrating that now more than ever, companies need to really invest in customer loyalty.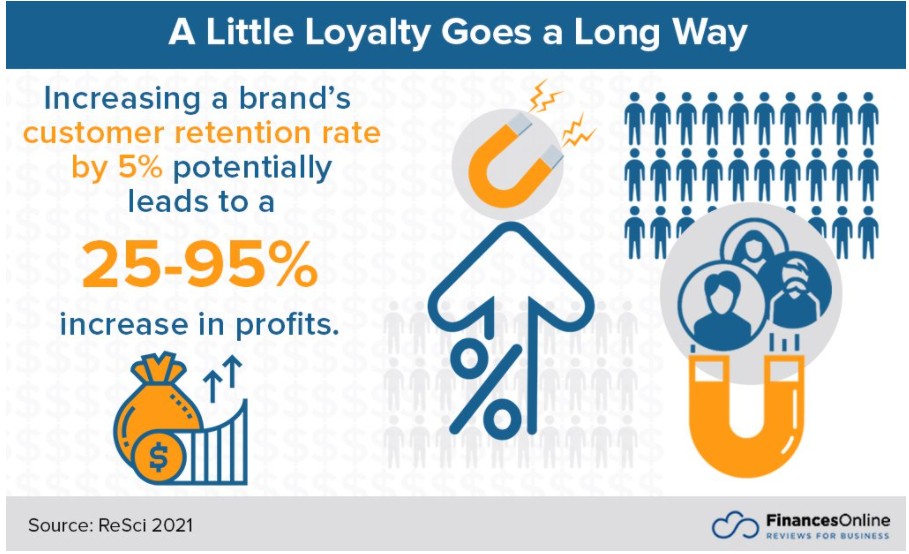 Source: Financeonline.com
Although it's easy for retailers to get caught up in the trend of convenience, value is an equally important driver of shopping behavior change. Even younger consumers look for high quality and brands that align with their values, two factors that inspire change for about 40% of younger shoppers.
Long-lasting shift to e-commerce and online shopping
COVID-19 has cemented the importance of unified commerce across both physical and digital retail channels. In the United States alone, e-commerce grew more than three times as fast from 2019 to 2020 as it had in the past five years, as more consumers are willing to buy products before they even try them.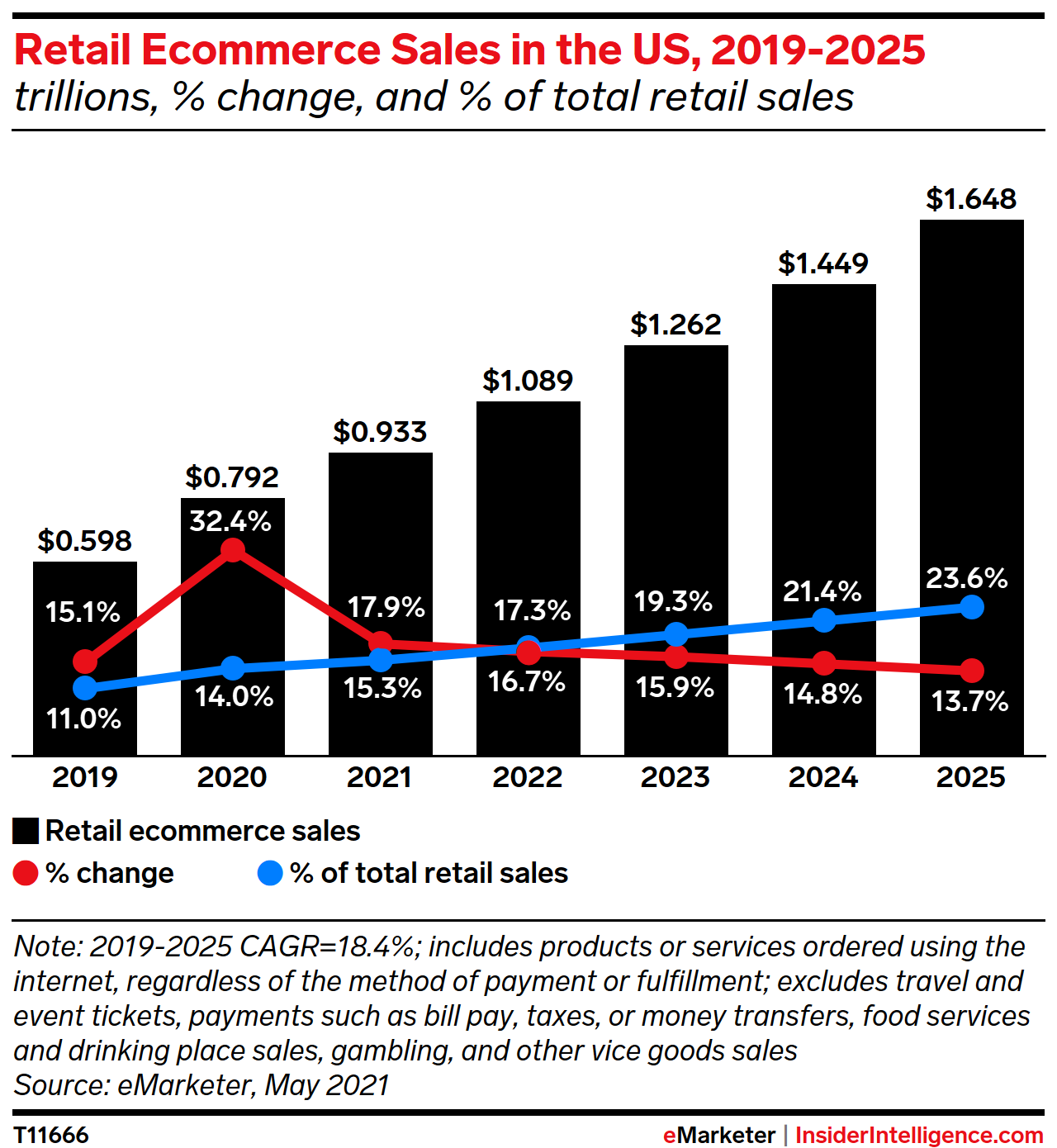 Source: eMarketer
Many consumers expect omnichannel shopping options from brands, with two-thirds of survey respondents citing the growth of omnichannel and digital shopping as the retail sector's greatest trend — and its biggest challenge. While e-commerce is often less profitable than brick-and-mortar stores, brands can subvert this by investing in data-driven marketing and distribution management for long-term growth.
Restructured approach to supply chain management
While the Suez Canal blockage lasted only a few days in March 2021, it held up almost $10 billion worth of goods, highlighting the vulnerability of global supply chains to external forces beyond our control. The re-thinking of global supply chains has been underway for some time. Governments and companies continue to their supply chains to look for weak points, strengthen resilience, and prevent disruptions, like the global chip shortage that left thousands of brand-new electronics and cars unable to be sold for months.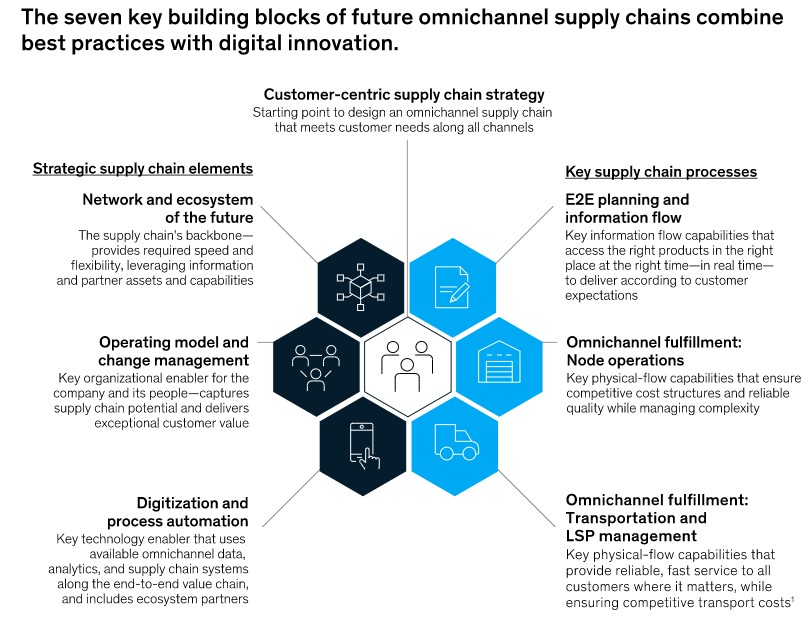 Source: McKinsey
With the rise of globalization, supply chains have usually been optimized for both cost and efficiency, but the events of the past year and a half have shown us that resilience and agility are just as important.
More personalized shopping experiences
For quite some time, I have been predicting that the future of retail will be driven by stronger branding and increased digitally influenced immersive customer experiences. Seventy-six percent of consumers are more likely to purchase from a store or brand they trust right now. This is where brick-and-mortar stores have a bit of an edge over e-commerce brands: By offering a more experiential option for consumers, they can build stronger, more memorable relationships with their customers.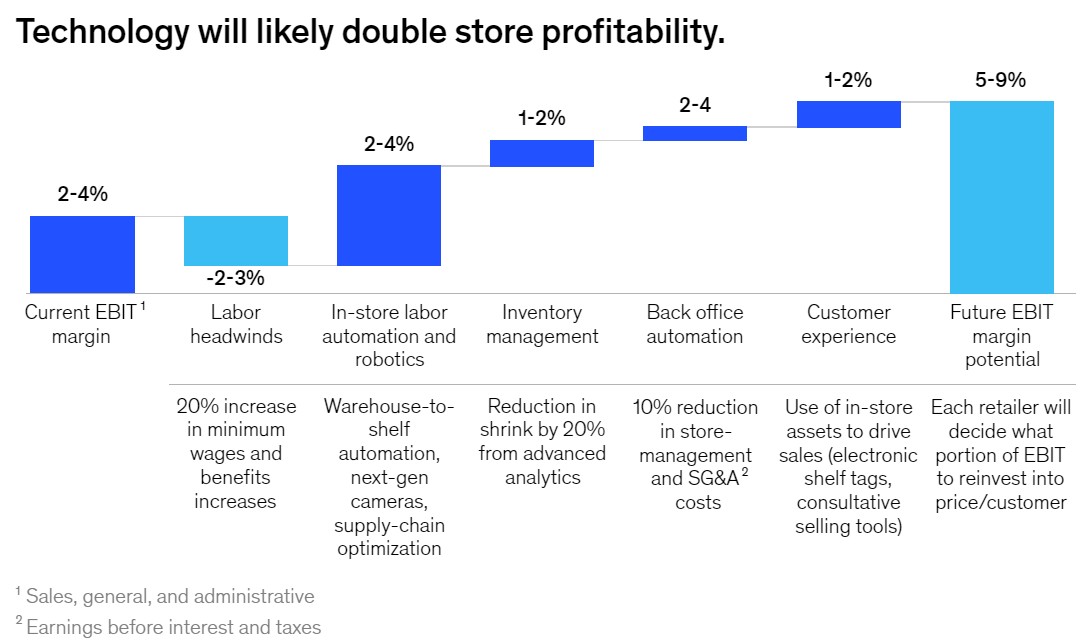 Source; McKinsey
Experts found that consumer demand for in-person experiences is returning, despite the continued growth of e-commerce sales. For online retailers, connecting customers to relevant products can help them stay competitive, as more than 30% of online shoppers "bounce" from an e-commerce website if they can't easily find what they're looking for right away.
COVID-19 has become a brutal accelerator of digital transformation trends that were already underway. Global and retail economies are returning to strong growth in 2021 and beyond. Technology is now taking a more central role in transforming all industries, especially retail. Welcome to the "new normal" and for more, download my latest summary on the "Disruptive Post COVID-19 Future of Retail".