Welcome to an uncertain and conceivably risky 2019. Despite multiple global hints of slower growth, I remain optimistic by the potential of the New Year.
On the horizon are multiple statistical landmarks that will "concentrate our minds". In 2019, half of the world will be online, India's GDP will overtake that of the UK, Nigeria's population will reach 200 million, and in USA millennials will outnumber baby-boomers to become the country's largest generation for the first time.
Inspired by one my favorite annual Economist editions, "The World in 2019", this post summarizes important global economic forecasts and looks at a few emerging risks. Timely to the upcoming NRF 2019 in New York, we will also discuss expected technology disruption and the positive prospects for the global retail industry in the New Year.
Economic Indicators Point to Continued Global Growth
In 2019, all regions across the globe are once again projected to have positive GDP growth. The fastest growing region will be Asia (5.4%), followed by Sub-Saharan Africa (3.0%) and Eastern Europe (2.7%). The slowest growing region will be Europe (1.7%). The top 5 fastest growing country economies of 2019 are Syria (9.9%), Bangladesh (7.7%), India (7.6%), Bhutan (7.4%), and Ethiopia (7.3%). India is the country to watch for its potential major impact on the global retail industry.
Latin America, dragged down by challenges in Venezuela and partially Argentina and Brazil will register a weak 2% growth in 2019. The bright spots in the region are Chile, Peru, Colombia, and Bolivia growing 3-4% and the Dominican Republic and Panama reaching 5%.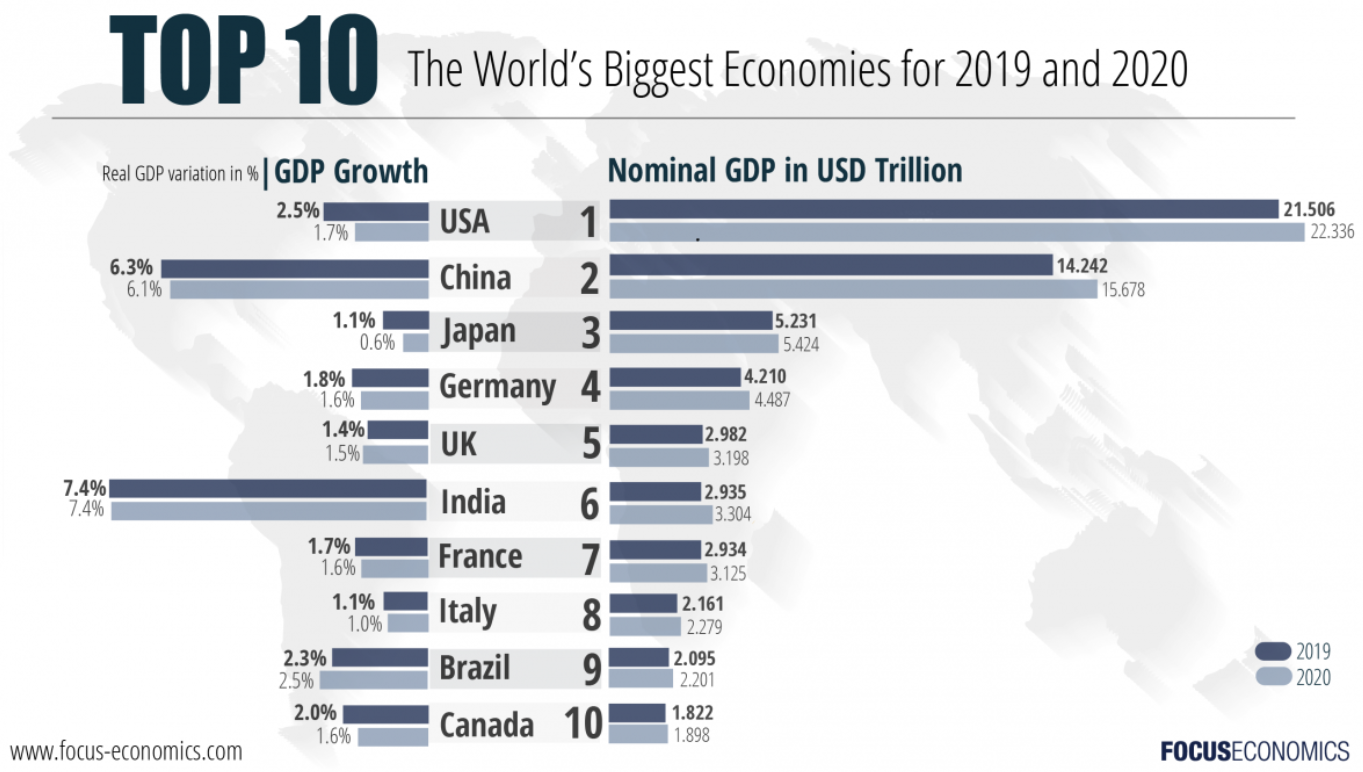 But More Risks Are on the Global Horizon
"By mid-year USA will break the record for its longest uninterrupted expansion, but by the end of the year it could be heading into a recession. China's growth rate will slow down," and Japan will still have low growth of only 1.7%.
"The world is more indebted today than it was before the start of the global financial crisis. The Bank for International Settlements, the central bankers' think-tank, put global debt at an eye-watering 217% of GDP at the end of 2017, up more than 20% from 2007. In emerging markets, debt is 50% higher. Household debt in China is more than 110% of disposable income, higher than in America, Japan and France. China's consumers, who were supposed to drive global consumption, are instead spending less."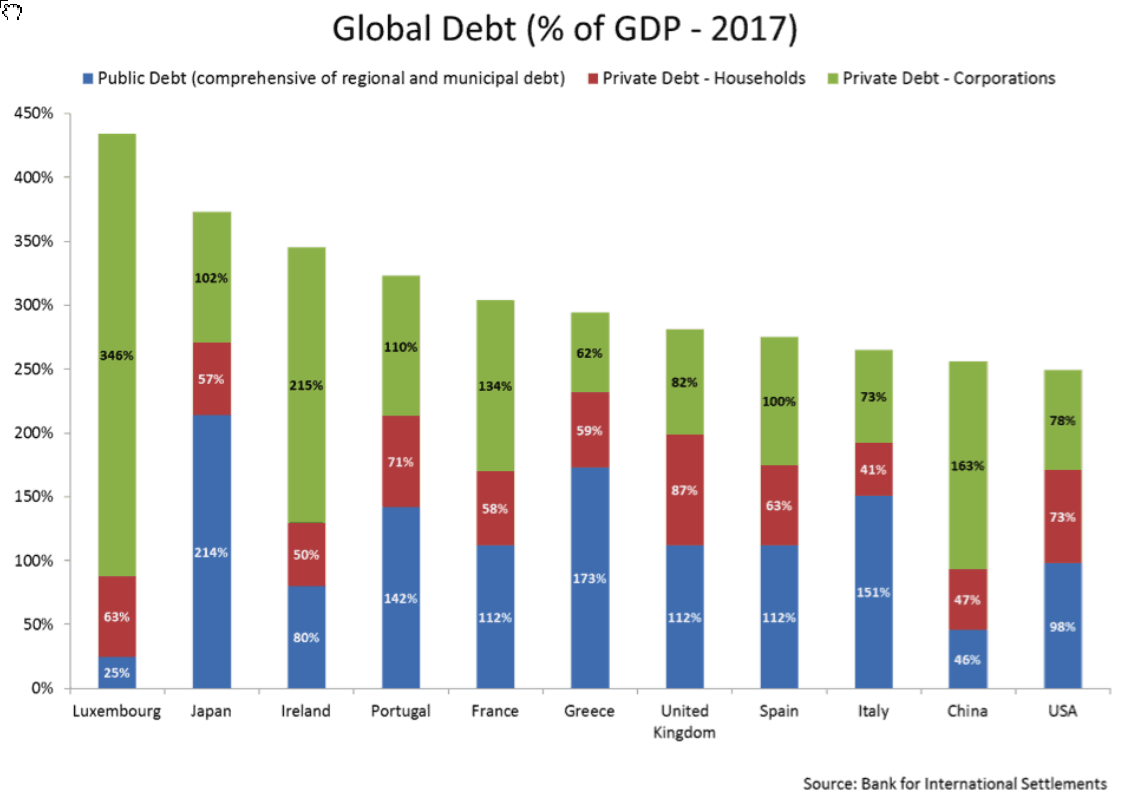 Disturbingly, "the number of new businesses in USA has fallen by nearly half since 1978, according to the Brookings Institution. Almost all industrialized countries have seen similar declines. The Fraser Institute compared 2001-07 with 2008-14 and found that startup creation dropped by 18.6% in USA, 20.3% in Australia, 8.5% in Canada and 7.5% in Britain."
Technology Will Continue to Disrupt the World
Technology will continue to disrupt industries in the new year. "The headline will write itself in 2019 when, based on estimates by the International Tele­communication Union (ITU), a UN agency, more than 50% of humanity will have access to the internet. Studies suggest that a 10% increase in internet penetration is correlated with a 1.35% increase in GDP for developing countries."
As I indicated in my recent FaceID series, the combination of web tracking and biometrics like facial recognition will mean that the spaces in which human beings are not tracked will shrink in 2019. In USA, Major League Baseball will start allowing fans to validate their tickets and enter stadiums via a scan of their face. Tokyo will spend the year preparing to use facial recognition for the 2020 Olympics. Three-quarters of airports and airlines in the world are using or testing the technology. Samsung will introduce new 3D facial recognition for its smartphones in 2019.
Artificial intelligence (AI), augmented reality (AR) and virtual reality (VR) will not be far behind. Researchers at Duke University (USA) and at InfoSupport, a Dutch software firm, are employing HoloLens to assist in neurosurgery. At Imperial College in London blood vessels are the target. At Stanford University it is breast surgery. AR is about to be rolled out as a therapy for children with autism.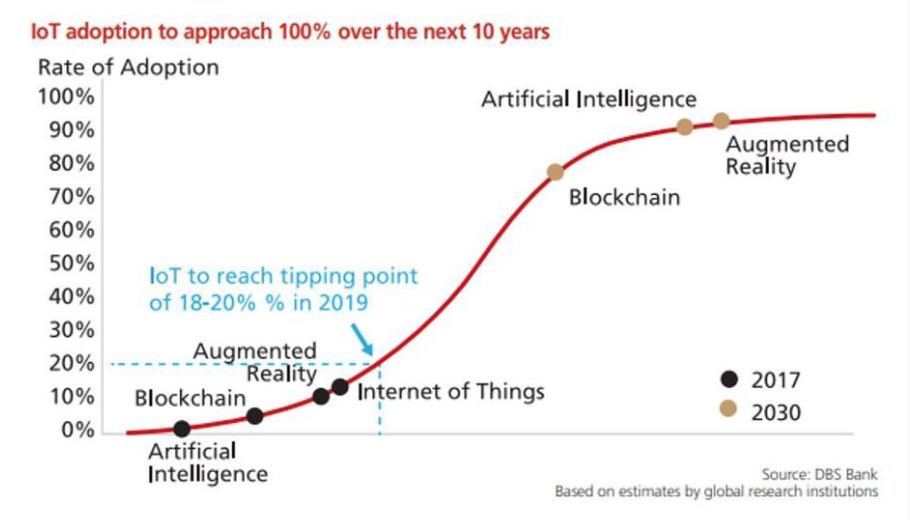 This coming year three countries outside USA will boldly space race back to the moon. Missions are in various stages of planning in China, India, and Israel. "NASA plans to do for the Moon in the 2020s what it did for low Earth orbit in the 2010s: stimulate the creation of new private-sector capabilities for getting stuff there."
Accelerated technology changes will be fueled by more people coming online, the arrival of 5G to speed up communications, and increased spending in IT and communications which will climb 5%. "Whether it's artificial intelligence or facial recognition, tech will be everywhere. But Silicon Valley may have peaked, and the tech giants will be in regulators' sights in both USA and Europe."
Retail's Future is Still Bright
Standing out in the just completed year 2018 was the global progress of the retail industry. China flexed its consumer muscle with Singles Day and Alibaba grossing $30.8 billion ecommerce sales in just 24 hours. We stopped fixating on Amazon taking over the retail world and we closed the year with the healthiest USA holiday shopping season in six years.
In 2019, world retail sales growth will hold steady at 3%. India and China will lead the expansion of retail in developing countries. Malaysia and Philippines will gain prominence as sales in Asia and Australasia rise by 5% by 2019, twice as fast as North America. Western Europe markets will stagnate. Retail sales in Russia and its neighbors will grow 4% in 2019 after expanding 6% in 2018. Latin America will recover slightly. Global e-commerce sales will grow 21%.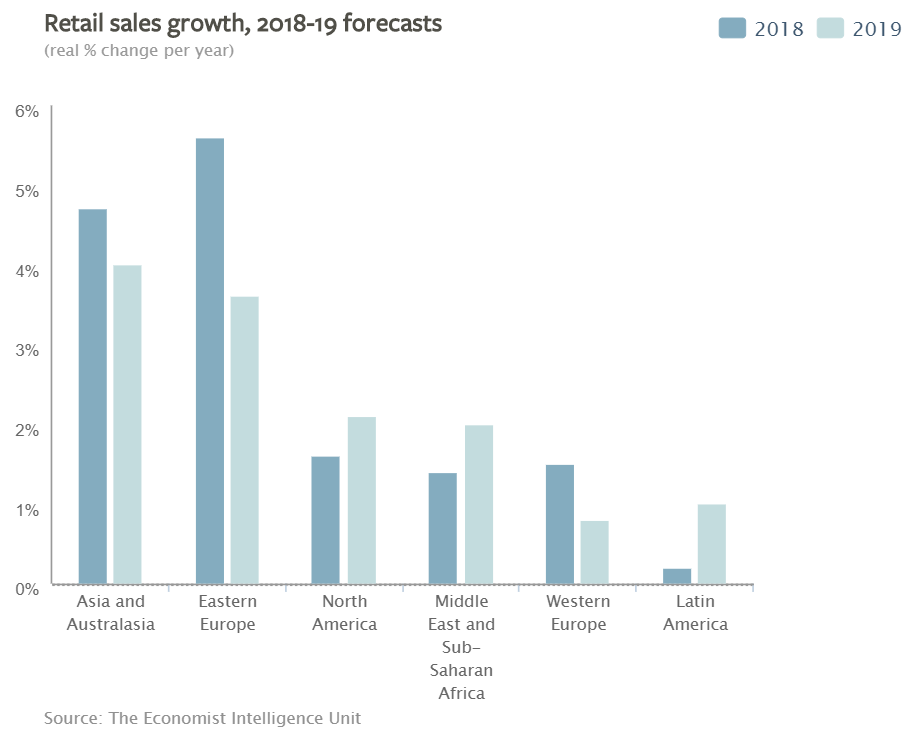 China is the country to watch for increased digital disruptive innovation in all industries, especially retail. In 2019, Chinese shopping and payment apps will continue to expand worldwide. "A third of Alipay (Alibaba) users are already abroad. In the summer of 2018, Alipay processed 2.6 times as many foreign transactions as in the same period a year earlier."
New markets will continue to open for the global retail industry. The UN projects that "Africa's population will double from 1.2bn today to 2.5bn by 2050, before almost doubling again to 4.5bn by 2100."
Tourism which remains a major opportunity for destination shopping for department stores will continue to grow. In 2019, worldwide tourist arrivals will reach 1.5 billion, generating $1.5 trillion in revenue. France is the top destination. China is the biggest source of travelers.
In 2019, the "industry killing" USA Millennials will assert their generational leadership. Swelling to 73 million, millennials are expected to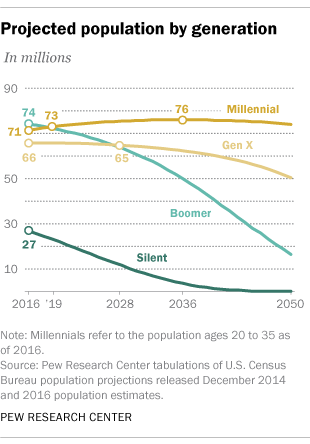 overtake Boomers as they decline to 72 million. Generation X (ages 36 to 51 in 2016) is projected to pass the Boomers in population by 2028. These new generations will technologically disrupt retail.
With new generations expecting immediate satisfaction, in 2019, the speed of commerce will continue to increase. "Amazon now delivers orders with one hour or two in 50 cities. More than 90% of JD.com (China rival) are now made within a day."
In 2019, technology will need to make progress in solving critical retail problems such as e-commerce returns. Online clothing shoppers return more than 50% of the garments they order because they do not fit, costing the global apparel business $62 billion a year.
A Happy Uncertain Risky Promising Disruptive Prosperous New Year 2019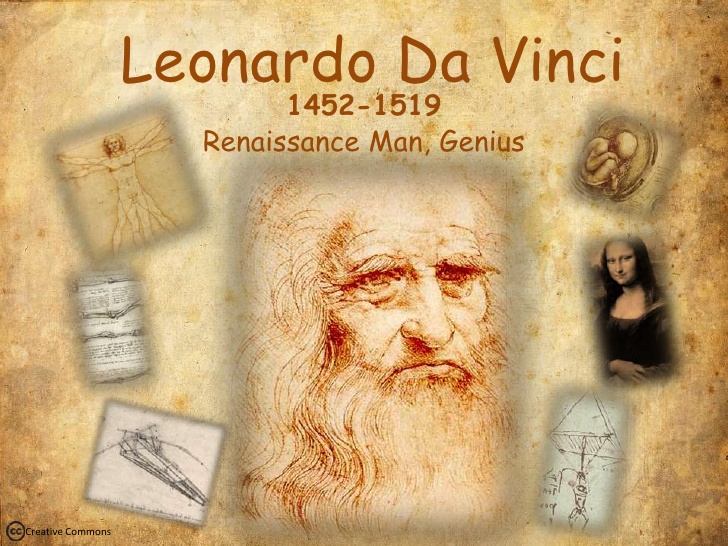 In 2017, in a "Reflective Moment that Changed My life", I wrote about my virtual Florence encounter with Leonardo Da Vinci. This famous futurist will return in our 2019 headlines as we commemorate 500 years since his death.
Da Vinci's genius life plan was navigating around uncertainty and risk, being endlessly curious, and focusing on projects that grew his legendary brand. It's no different in 2019.
The future of retail includes digital to physical leadership branding and hyper-personalized consumer experiences. Through technology, all consumer facing industries can have a promising, disruptive, and prosperous new year.